Canada's Largest Halloween Run!
on
Sunday October 27h
FINAL REGISTRATION TODAY ONLY CASH OR CREDIT CARD

We are excited to let you know that the 2019 Monster Dash is back at the Ontario Science Centre, if you attended in 2017 or 2018 the large, cool indoor spaces where you can escape a cool late fall winter night, or if the dark scares you outside.....
Run/walk routes will course through adjacent Wilket Creek and Sunnybrook Park trails as in the past. The Post Event party is INDOORS, so now you can comfortably change after the run into your second costume......(:
What is Monster Dash ?
Monster Dash consists of a Spooky Mile for kids and families under 12, and a chip-timed 5km & 10km run / walk for young adults and those young at heart. Bring your friends & family, walk/jog/crawl your child down the Spooky Mile for some trick or treating and then finish with your own cheering squad at the end of your run! Mom, Dad, and the Ghoulish Entourage are encouraged to also Dress Up and you can buy a Family Plan meal so you don't have to rush home for dinner.
Join in the Halloween theme and come "dressed for costume success" to win top Ghoul for a chance at additional prizing! Spooky Mile kids will receive finisher's ribbons, a swag bag and are welcome to join in on the post-run fun later in the evening!
NEW in 2019 - The Tough Pumpkin!
That's right, in addition to the chance to WIN a FREE, ONE YEAR No strings attached 12 month LEASE on a 2019 Jeep Wrangler Unlimited....you can now up the ante' on your 5k or 10k run/walk and CARRY a pumpkin (reasonable size folks) for extra fun, and prizing!
2019 Runner's gift is pictured here, cool, amazing, stylish, Miles' approved! AND you can buy any of the Cool, Functional and Versatile Head Scarves from last year, or the Lucky Finisher Coins that were a hit in Year #1, or the amazing Monster Bottle Openers' that every kitchen would be incomplete withou. Miles' loves swag...and so do you....Swag On Monsters.
Here are the 2019 Socks:
Calling all Ghosts, Ghouls, and Goblins!
The spooky starting line is waiting for YOU!
Volunteers Wanted!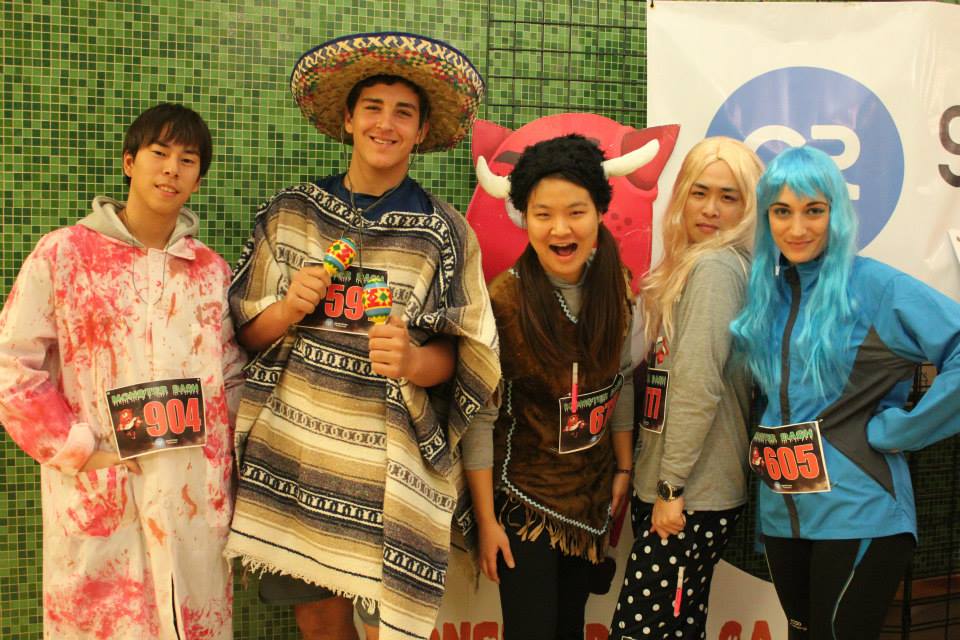 EMAIL us if you are a Zombie.....Ghost, Ghoul or other (insert scary character here) wanting to volunteer and put your dress up skills to the test! events@goodtimesrunning.ca
It's FREE to volunteer and you get stuff like food, an event gift (shirt or buff) , and goodie bag.
COURSE ROUTES for 2019
NEW in 2019 - All three races will start / finish at TOP / Front of the Ontario Science Centre adjacent to Sunnybrook Park, South Parking Lot:
Here is the 10km Route:
http://www.monsterdash.ca/course.html
Here is the 5km Route (click above too, lol)
Costumes are not only welcome but encouraged for fun AND prizing!
Please note: We cannot accommodate runners who arrive late. Start times will not be delayed.
Check back in for updates and be sure to LIKE us on Facebook and follow us on Twitter and Instagram for contests, prizing + more!
SPONSORS & PARTNERS
Thanks again to some of our key Sponsors and Supporters, we always welcome more, as Miles' says....the more the merrier!
Registration fees
Friends & Family Post Event Ticket AND Spooky Mile Adult Ticket (includes the Monster Maze)
Closed
Have your friends and family join you in the post race food and beverages OR Sign Up Here to Run-Walk-Push-Carry (!) your kids across the finish line. You can Enter the Monster Maze with this ticket!
---
Family Packages 2019
Closed
Registration closed
Based on 2 adults and 2 kids (17 or under)
---
Spooky Mile
Closed
Registration closed
13 & Under not incl. tax does not include Finisher Medal but it does include the Goodie Bag and Finisher Ribbon. Most kids here are actually under 8 and parents can run with their kids as long as they have the Family Meal plan ticket. Strollers are allowed BUT fyi some of the course activations you will want to skip as they go on the grass or in uneven trails (footing)
---
Adult 10K (NEW in 2019 try the TOUGH PUMPKIN CHALLENGE its a $10 add-on in the next screen)
Closed
Registration closed
---
Adult 5K (NEW in 2019 try the TOUGH PUMPKIN CHALLENGE its a $10 add-on in the next screen)
Closed
Registration closed
---
Youth 10K (NEW in 2019 try the TOUGH PUMPKIN CHALLENGE its a $10 add-on in the next screen)
Closed
Registration closed
---
Youth 5K (NEW in 2019 try the TOUGH PUMPKIN CHALLENGE its a $10 add-on in the next screen)
Closed
Registration closed
---
Monster Maze Tickets - includes food, goodie bags, commemorative race bib
Closed
Enter the bigger, better and scarier Monster Maze while inside the Science Centre! If you dare, all entrants must have a ticket.
---
EARLY BIRD REGISTRATION IS NOW OPEN!
Online Registration will close on October 25th at 12:00pm noon IF WE ARE NOT SOLD OUT.
Miles reminds everyone in 2017 we SOLD OUT for the first time ever, so get off the fence, grab your friends and register....figure out the costume later!
CONTEST & PRIZING
Monster Dash wouldn't be complete without a costume contest. If you're up for the challenge come on down in your best Halloween costume for the run...while not mandatory it's sure to make it fun for everyone!
Whether you're Spiderman, Lady Gaga or a piece of toast - show off & run in your costume for a chance to win a "trick or a treat". Our race crew staff members are on the lookout for the best costumes! We're also awarding our Top Fundraisers!
Costume Categories include:
COSTUMES
1. BEST COSTUME 18 and Over - Male OR Female
2. BEST COSTUME 17 and under - Male OR Female
3. SCARIEST COSTUME
4. BEST COUPLE COSTUME

FUNDRAISER
TOP MALE AND TOP FEMALE FUNDRAISER
TOP 2nd FUNDRAISER
TOP 3rd FUNDRAISER
TOP TEAM FUNDRAISER

OVERALL FINISHER'S
TOP 3 MALE AND FEMALE
5K
10K

TOP MALE AND FEMALE (1)
Under 17
18 - 29
30 - 39
40 - 49
50 - 59
60
Check back for updates on monsterdash.ca for how you can enter day of! Make sure your race bib number(s) are visible on the photos!
Top donors
| No. | Name | Amount |
| --- | --- | --- |
| 1 | John Allaster | $108.31 |
| 2 | Jane Roberts | $108.31 |
| 3 | Anonymous | $83.40 |
| 4 | Julia Calle | $54.63 |
| 5 | Marilyn Welsh | $54.63 |
Top teams
1

Wonder Woman

Raised:

$198.04

View page
2

Chenier

Raised:

$83.40

View page
3

Stride of Frankenstein

View page
Event schedule
October 27 3:00 p.m. EDT - Before and After Party inside OSC - START
October 27 3:00 p.m. EDT - Monster Maze - OPENS
October 27 4:15 p.m. EDT - Spooky Mile
October 27 5:30 p.m. EDT - 10 KM Run
October 27 6:00 p.m. EDT - 5 KM Run
October 27 8:30 p.m. EDT - Monster Maze - CLOSES
October 27 9:00 p.m. EDT - After Party inside - FINISH
October 28 5:00 p.m. EDT - Jeep Wrangler Giveaway
Contact information
Name

Monster Dash c/o Good Times Running Inc.

Phone

+1 647-828-4663

Website