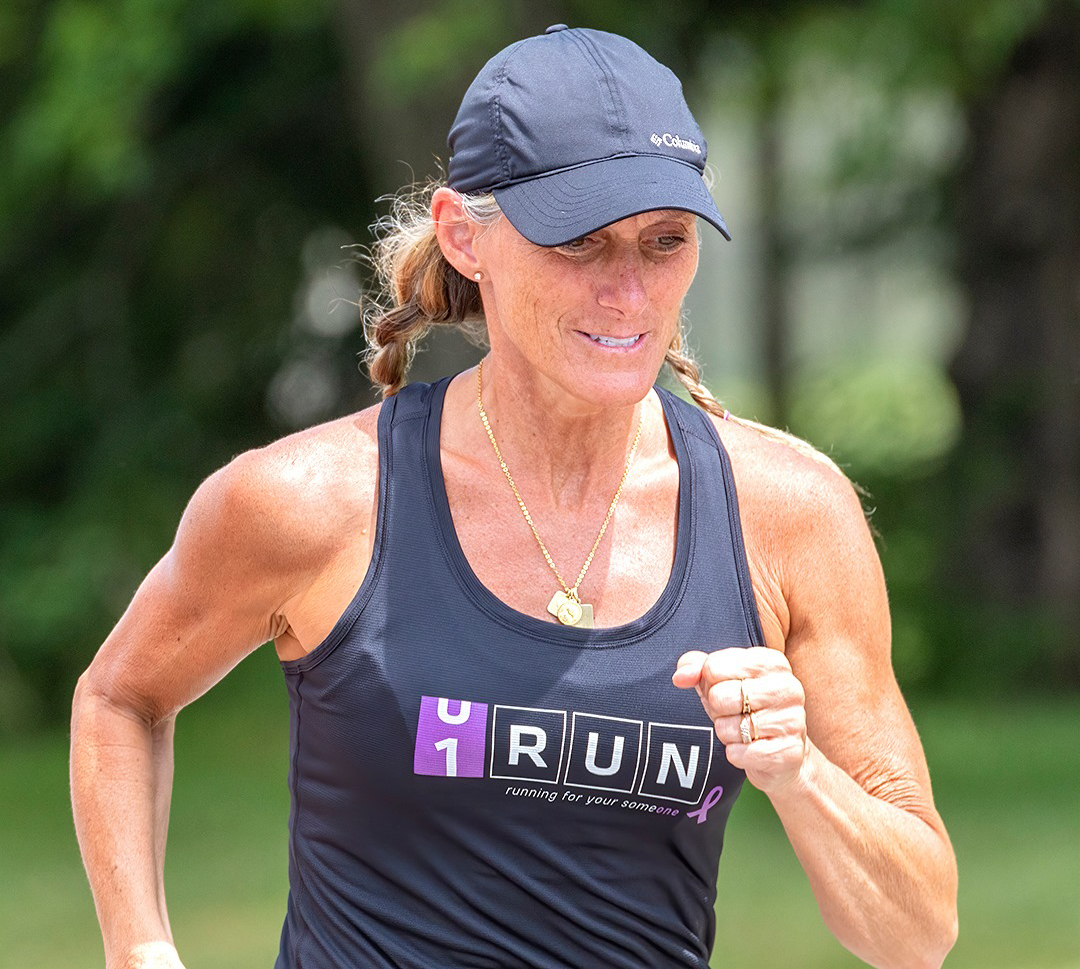 Although Theresa makes her 100km journey in one day - you will have one month to complete yours! Starting on May 17, 2021, you can walk, run, bike, roller-blade or even skateboard to complete your 100km.
Donate $25 by May 5th to get a ONERUN black cotton t-shirt by May 15th to wear during your 100km Journey. Donate $30 anytime after May 5th and you will receive your t-shirt after the event.
Registration
ONERUN 100km Virtual Journey
---
---
Fundraising Prizes

When you fundraise you can earn prizes based on the following dollar amounts:
$30 = black cotton t-shirt
$250 = black performance short sleeved shirt
$500 = crew neck sweatshirt
$1,000 = both performance short sleeved shirt and crew neck sweatshirt
Hero Spotlight
Since 2010, ONERUN has been raising funds to help support cancer patients and their families by directing most of our funds to organizations such as Wellspring and Childcan. Throughout the years, we've heard hundreds of amazing stories of courage, inspiration, and resiliency - one of the themes for this year's 2021 campaign. We want to give our community the opportunity to share their own stories of those who have or are dealing with cancer, or individuals you know that work with cancer patients that have reached hero status in your mind. Your hero could be anyone from the doctors and nurses treating cancer patients, patients themselves or even a special volunteer who has made a patient's life a little easier to manage.
For every "Hero's" name ONERUN receives, their story will be highlighted on all of our social media accounts throughout our 2021 campaign that begins April 5th and ends June 18th. As an added thank you, we will provide both the hero and the person who shared their story with a special ONERUN buff. All you need to do is fill out the form below and let us do the rest.
We will have special days for you and your heroes to pick up your ONERUN buff within London so we can hopefully meet you both! If you reside out of town or would prefer to have your buffs mailed please ensure you fill out your full address on the form. Please share your story before Tuesday, June 1, 2021 to be featured.
Top donors
| No. | Name | Amount |
| --- | --- | --- |
| 1 | Megan Hardeman | $269.32 |
| 2 | Leanne and John Howlett | $269.32 |
| 3 | Allott Family | $269.32 |
| 4 | DLS Electric (London) Inc. | $269.32 |
| 5 | Melissa Maloney | $250.00 |
| 6 | Marlene Travers-Smith | $250.00 |
| 7 | Kenneth McGill | $216.62 |
| 8 | Candy B. | $215.65 |
| 9 | Aggie Kalapun | $200.00 |
| 10 | Anonymous | $200.00 |
Top teams
1

Sir Frederick Banting Secondary School

View page
2

Canada Life

View page
3

Green eggs and Sam

View page
4

Westminster Secondary School

View page
5

Whitecaps 07 Regional Grey

View page
6

Southwest Academy

View page
7

Walking Hand-in-Hand

View page
8

Sir Wilfrid Laurier Secondary School

View page
9

Selectpath

Raised:

$487.06

View page
10

Parkside Collegiate Institute

View page
Top fundraisers
1

Olivia McColl

View page
2

Johanna Varsava

Raised: $1,318.54

View page
3

Emily MacLean

View page
4

Samantha White

Raised: $787.87

View page
5

Nicole Butt

View page
6

Lynda Crozier

View page
7

Jennifer Engel

View page
8

Paulette Soscia

View page
9

Ms. Kim Telford

Raised: $463.89

View page
10

Sharon Aul

View page
Contact information
Event contact

ONERUN

Email

Website
Total raised
20 percent of the goal has been raised
Total raised
$29,735.42
Goal: $150,000.00