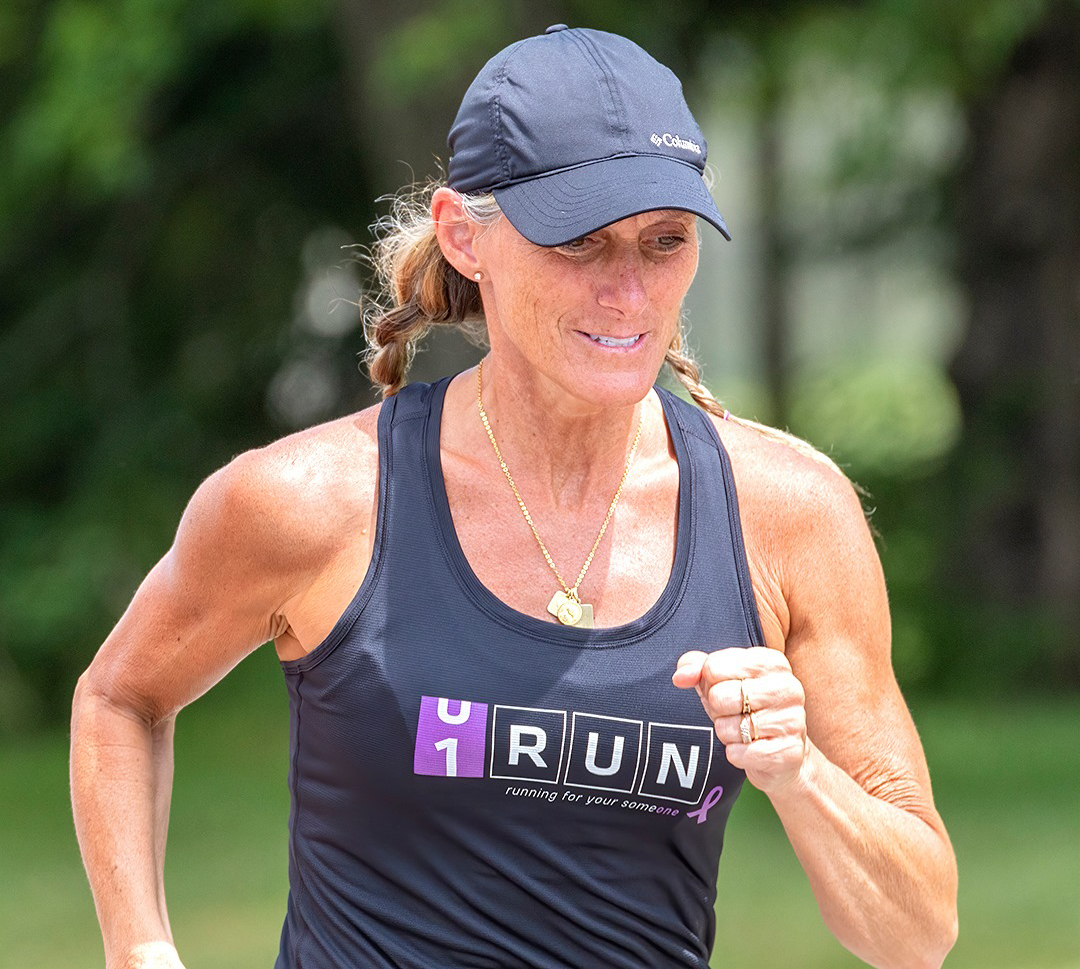 Although Theresa makes her 100km journey in one day - you will have one month to complete yours! Starting on May 17, 2021, you can walk, run, bike, roller-blade or even skateboard to complete your 100km.
Last year the community came together for ONERUN's first ever 100km virtual event and raised over $150,000 for Wellspring London & Region and Childcan. With COVID-19 restrictions still in place, we are hoping that the community will help again while getting active on their own, with family, friends, co-workers or teammates.
Registration
ONERUN 100km Virtual Journey
Closed
| Register to Participate or Fundraise
---
Register to fundraise only
Closed
---
Fundraising Prizes

When you fundraise you can earn prizes based on the following dollar amounts:
$30 = black cotton t-shirt
$250 = black performance short sleeved shirt
$500 = crew neck sweatshirt
$1,000 = both performance short sleeved shirt and crew neck sweatshirt
Hero Spotlight
Since 2010, ONERUN has been raising funds to help support cancer patients and their families by directing most of our funds to organizations such as Wellspring and Childcan. Throughout the years, we've heard hundreds of amazing stories of courage, inspiration, and resiliency - one of the themes for this year's 2021 campaign. We want to give our community the opportunity to share their own stories of those who have or are dealing with cancer, or individuals you know that work with cancer patients that have reached hero status in your mind. Your hero could be anyone from the doctors and nurses treating cancer patients, patients themselves or even a special volunteer who has made a patient's life a little easier to manage.
For every "Hero's" name ONERUN receives, their story will be highlighted on all of our social media accounts throughout our 2021 campaign that begins April 5th and ends June 18th. As an added thank you, we will provide both the hero and the person who shared their story with a special ONERUN buff. All you need to do is fill out the form below and let us do the rest.
We will have special days for you and your heroes to pick up your ONERUN buff within London so we can hopefully meet you both! If you reside out of town or would prefer to have your buffs mailed please ensure you fill out your full address on the form. Please share your story before Tuesday, June 1, 2021 to be featured.
Top donors
| No. | Name | Amount |
| --- | --- | --- |
| 1 | Anonymous | $1,450.12 |
| 2 | Lloyd Courtney | $1,074.41 |
| 3 | Pete & Lou | $1,074.41 |
| 4 | Maria Rocca | $1,000.00 |
| 5 | Annie's Angel's (Dog Treats) | $1,000.00 |
| 6 | Deana's Divas | $537.69 |
| 7 | Anonymous | $537.69 |
| 8 | Anonymous | $537.69 |
| 9 | Kaiser Family | $537.69 |
| 10 | Integrated Digital Solutions | $537.69 |
Top teams
| | | | |
| --- | --- | --- | --- |
| 1 | | Sir Frederick Banting Secondary School | View page |
| 2 | | Canada Life | View page |
| 3 | | Westminster Secondary School | View page |
| 4 | | H.B. Beal Secondary School | View page |
| 5 | | We're 100% not fit! | View page |
| 6 | | Green eggs and Sam | View page |
| 7 | | Parkside Collegiate Institute | View page |
| 8 | | Deana's Divas | View page |
| 9 | | Strathroy District Collegiate Institute | View page |
| 10 | | Chafing Dreams | View page |
Top fundraisers
1

View fundraiser page for tory

tory dunlop

View page

for tory

2

View fundraiser page for Agnieszka & Steve

Agnieszka... Chuchrowsk...

View page

for Agnieszka & Steve

3

View fundraiser page for Theresa

Theresa Carriere

View page

for Theresa

4

View fundraiser page for Johanna

Johanna Varsava

Raised: $3,000.37

View page

for Johanna

5

View fundraiser page for Jeanne

Jeanne Cosman

View page

for Jeanne

6

View fundraiser page for Angela

Angela Cameron

Raised: $2,699.92

View page

for Angela

7

View fundraiser page for Jill

Jill Taylor

View page

for Jill

8

View fundraiser page for Samantha

Samantha White

Raised: $2,428.16

View page

for Samantha

9

View fundraiser page for Mya

Mya Zammit

View page

for Mya

10

View fundraiser page for Olivia

Olivia McColl

View page

for Olivia
Contact information
Event contact

ONERUN

Email

Website
Total raised