The Muskoka Marathon!
Set to the backdrop of beautiful Bracebridge Ontario
A sanctioned run with a 5km & 10km a 21.1km and 42.2km race in the early fall season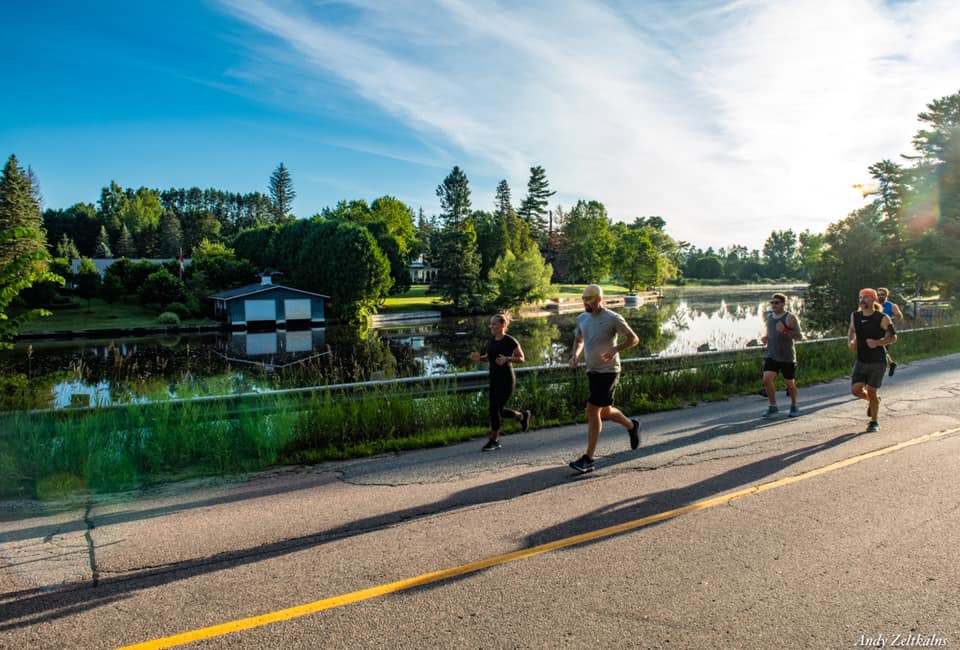 We have 2 great days of racing planned for 2021. Join us OCT 2/3 for some beautiful fall racing. There's still some spaces in all our races, as well as volunteer positions. Join our fun team and cheer on a small field of dedicated runners.
SAT OCT 2 : Half Marathon (7am), 10k (1pm), 5k (3pm) races
SUN OCT 3 : Marathon (7am)

Racers will stagger start in groups of 20-30. Water/Gatorade stations every 2.5k.

In 2020 we launched our inaugural race; director Jed needed an outlet for his 40th year goal of running a marathon, and our events company had bandwidth given Covid19 had cancelled most of our annual events. With strong partnerships, and a small field, we dipped our toe into the race world, getting a grasp on logistics, key pieces, and the great energy of a race-day. We look forward to growing the field in 2021, and being able to offer the pieces that we're experts in: pre & post party, events food, live music, and of course: BEER!
The course is paved, flat, and the colours along the Muskoka River in early October make for an ideal spot for a fun run or a personal best.
2020 Race Recap
Our 5k race saw the 3 fastest times come from teenagers! Noah Booth (15yo) won by a Muskoka Mile, throwing down a PB of 15:39. Alex Campbell (15yo) won the women's division, making it a double gold for 2005 birth year!
In the 10k race, our top 6 finishers were 25 and under. Mitch De Lange paced the men with a 31:04, and Kara Blair won the women's race by a Muskoka Mile with a 35.25.

Roy Miciano ran BOTH races on Saturday, even placing 7th in the 5k.
Our half marathoners were out early on Sunday in near-perfect conditions, and the women ruled the day: Top 2, and 4 of top 5. All of this was highlighted by winner Branna MacDougall throwing down a PB and crushing the U23 Canadian Record in the process with a 1:11:42. Shawn MacFarlane broke up the ladies' podium sweep, and won the men's race with a 1:17:27
The weather deteriorated, and our marathoners were faced with a wet and cold course: we had some really fast runners all throughout the field, and it looks as though 34 runners have hit the qualifying times for the Boston Marathon 2021 (https://www.baa.org/races/boston-marathon/qualify). Matt Gervais ran a faster second half (what?!) to reel in the field, threw down a PB, and wn the race in 2:43:45. Darla Coles won the women's race by a Muskoka Mile in 3:00:10.
Laura Wismer ran on SAT and SUN, placing 6th in both the 5k and the HALF. You're a champ Laura!!
It was amazing to see so many families running. We had a husband & wife (Gervais) and father & son (Throop) who all qualified for Boston. Patrishia Morris pushed her limits, running on 2 bad knees to complete her longest race ever (HALF), with her fiancé, Jesse Carter, always waiting for her so they could finish together.
Despite a fairly small field, we had a lot of amazing moments. PBs, firsts, National Records, Boston Qualifiers, and a whole lot of camaraderie.
Registration fees
441 spots remaining
---
---
---
---
---
---
---
---
---
---
---
---
---
---
---
---
Our Generous Sponsors of 2020
Contact information
Event contact

Race Director

Website
Event location
Santa's Village: Muskoka's Theme Park, Golden Beach Road, Bracebridge, Ontario, Canada
View map