Tis the Season
Snow Falling, lights twinkling, children laughing. Holiday spirit is in the air! Sipping hot cocoa with lots of marshmallows, skating, making gingerbread houses, driving around to see the lights, and spending time with the ones we love. Tis the season to be with family and share the love.
Start a new tradition this year with your family and friends. Make this a holly, jolly merry holiday season with a 1mile, 5k, 10k or 1/2 marathon virtual run and earn a beautiful participant tee-shirt and ornament medal when you meet fundraising milestones.
Join Hearts for Autisms Holiday Virtual Races and help us raise funds to support our mission of reaching more families and provide more services to those affected by the disorder in the Southern New Mexico and surrounding communities.
About Hearts for Autism
The Hearts for Autism Fund is a non-profit organization founded to provide children an opportunity to attend a camp specializing in Autism.
Today, Hearts for Autism funds the New Amigos camp for children with Autism Spectrum Disorders along with additional camps targeting language and education services. Hearts for Autism has partnered with New Mexico State University, Dona Ana Branch Community College, Las Cruces Public Schools and numerous civic organizations to deliver activities for children within the Autism Spectrum Disorder. In addition, Hearts for Autism has branched out to assist the service providers within the communities we serve to provide continuing education and community education to better serve those affected by the disorder.
Hearts for Autism has been able to expand its mission and reach more families and service providers affected by the disorder in the surrounding communities through the generous support of individuals, corporate sponsorship, and annual fundraisers.
You are the key to insuring Hearts for Autism has successful programs.
We need your help to fundraise!
Whether you're joining the Hearts for Autism race to help support a loved one, support a school's autism class, or just because you want to do your part, it's down to people like you that we can keep funding specialize camps for local children.
We have chosen this platform as it is easiest way to raise money without having to ask our participants to keep track of, then collect donations made on their behalf.
Each participant will have a unique pledge page.
Your friends and family can sponsor you easily and donate on your behalf
You can keep track of donations on your pledge page, which you can customize.
There's no need to use a pledge form to keep track of donations
There are several ways you can help fundraise via this event
1. Register for the race of your choice
Set up your personal pledge page. (how to set up pledge page)
Determine the amount you wish to raise.
Share your pledge page with friends to donate on your behalf. (How to share pledge page)
Challenge your friends and family to participate as well as donate!
Raise at least $200 - There are prizes for the reaching fundraising milestones!!!
2.Donate on behalf of a participant and help them earn and win prizes along the way!
Simple search your participant from the "Participant list" on left side of page
Click the donate button next to their name
Choose amount you wish to donate
3. Donate directly to fundraiser by clicking the donate button on right hand side.
100% of all donations go towards Hearts for Autism (gifts and prizes are paid for thru donated funds)
We have fabulous rewards for those participants who reach the following fundraising milestones.
Prizes are offered to everyone who fundraises the following amounts.
Prizes are cumulative, so you keep each prize as you raise more funds!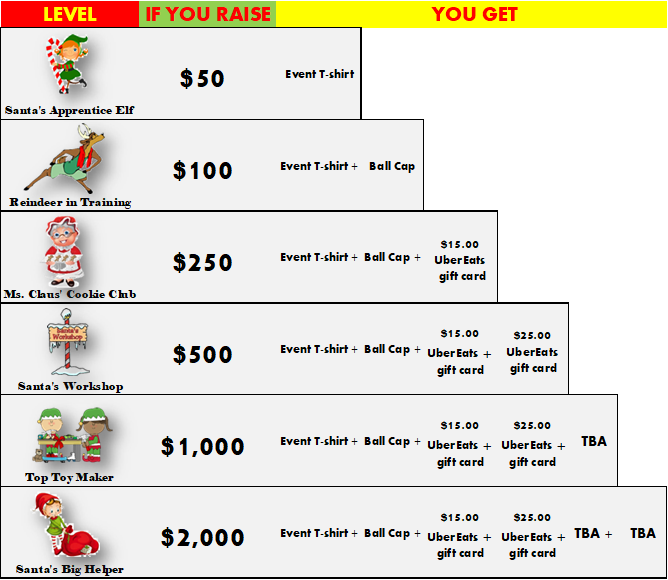 *Hearts for Autism reserves the right to change prizes as need due to availability and any other unforeseen issues.
Being this is a VIRTUAL race there is no designated start of finish line. We are glad to introduce ACIS RunKeeper, simplifying tracking and posting of your results!
There are several ways to track and post your results
Manually - Follow these steps to manually post your results on Race Roster (not using the app).
ACIS Runkeeper - You can follow these step-by-step instructions (with images) on how to track your participation using the ASICS Runkeeper app.
Wearable + ACIS Runkeeper- You can track your participation using your Fitbit, Garmin, or Apple Watch earlier. Follow these steps to add your Fitbit, Garmin, or Apple Watch activity to the Runkeeper app.
Note: you will receive an email after registration with more info
Top donors
| No. | Name | Amount |
| --- | --- | --- |
| 1 | Anonymous | $267.98 |
| 2 | Kelly Hampton | $150.46 |
| 3 | Alex Limon | $107.73 |
| 4 | LCPS Special Education Dept. | $107.73 |
| 5 | Colato Family | $107.73 |
Top teams
Registration fees
Jingle Bell 1 mile
Closed
---
---
---
Over the River Merry Half Marathon
Closed
---
Contact information
Event contact

Race Director

Phone

(915)539.6710