| | |
| --- | --- |
| | |
| 5K - 15K - 30K | 5K Ruck - 10K Ruck - 15K Ruck |
First Responders Run & YQR VetRun - June 1 - 30, 2021
The Run Regina First Responders Run is excited to add the YQR VetRun to our race this June.
The First Responders Run was started to honour and pay tribute to first responders in our communities while also raising awareness of the mental health challenges often incurred by those same first responders.
For first responders, Post-Traumatic Stress Disorder (PTSD) is a frightening and increasingly common occurrence on the job, and it can be devastating to lives and careers without support. Finding support can be difficult, and is compounded with the fear that stigma still exists in society surrounding mental illness. Evidence shows that first responders are at least twice as likely compared to the general population to suffer PTSD.
The YQR VetRun was created with five goals in mind:
Awareness of the mental and physical health of Veterans
Raise funds to support Veterans and Veterans Initiatives
Increase public awareness of who is a Veteran
Promote physical activity and healthy living
Support Veterans year round and not just around Remembrance Day
Bringing these two events together to shine a collective light on the mental health challenges of those who serve just seemed like an opportunity too good to pass up. Help us thank and support our First Responders and Veterans this year.
Fundraising
We are partnering with local charities focused on supporting First Responders and Veterans mental health initiatives and programs. We encourage you, if you are able, to support these worthy causes.
Current Status
We are launching this as a virtual only event at this point due to the uncertain Covid-19 restrictions in June. Distances available include 5K, 15K and 30K run or walk as well as 5K, 10K and 15K ruck. If the current Covid-19 situation changes in the coming weeks we will attempt to move as many participants as possible, who wish to transfer, into an in-person event. Any in-person event will meet all requirements mandated under public health orders from the Government of Saskatchewan.
Race Fees Include:
Locally Designed and Printed Short Sleeve Technical Running Shirt
Locally Designed Unique First Responders Run Medal and/or YQR VetRun Medal
Custom Race Bib
Opportunity to fundraise in support of vital First Responder mental health initiatives
Leaderboard to track Race Results
Digital Finisher Medal(s) for your Race Roster Dashboard
Digital Finisher Certificate
Online Facebook Group to post photos, share stories and celebrate your achievements with fellow participant
All Registration fees are Non-Refundable and Non-Transferable
What is Rucking?
RUCK•ING [Verb] // Walking with a weighted rucksack (aka backpack). It implies action, energy, and purpose. Rucking requires strength, endurance, and character — and builds it, too.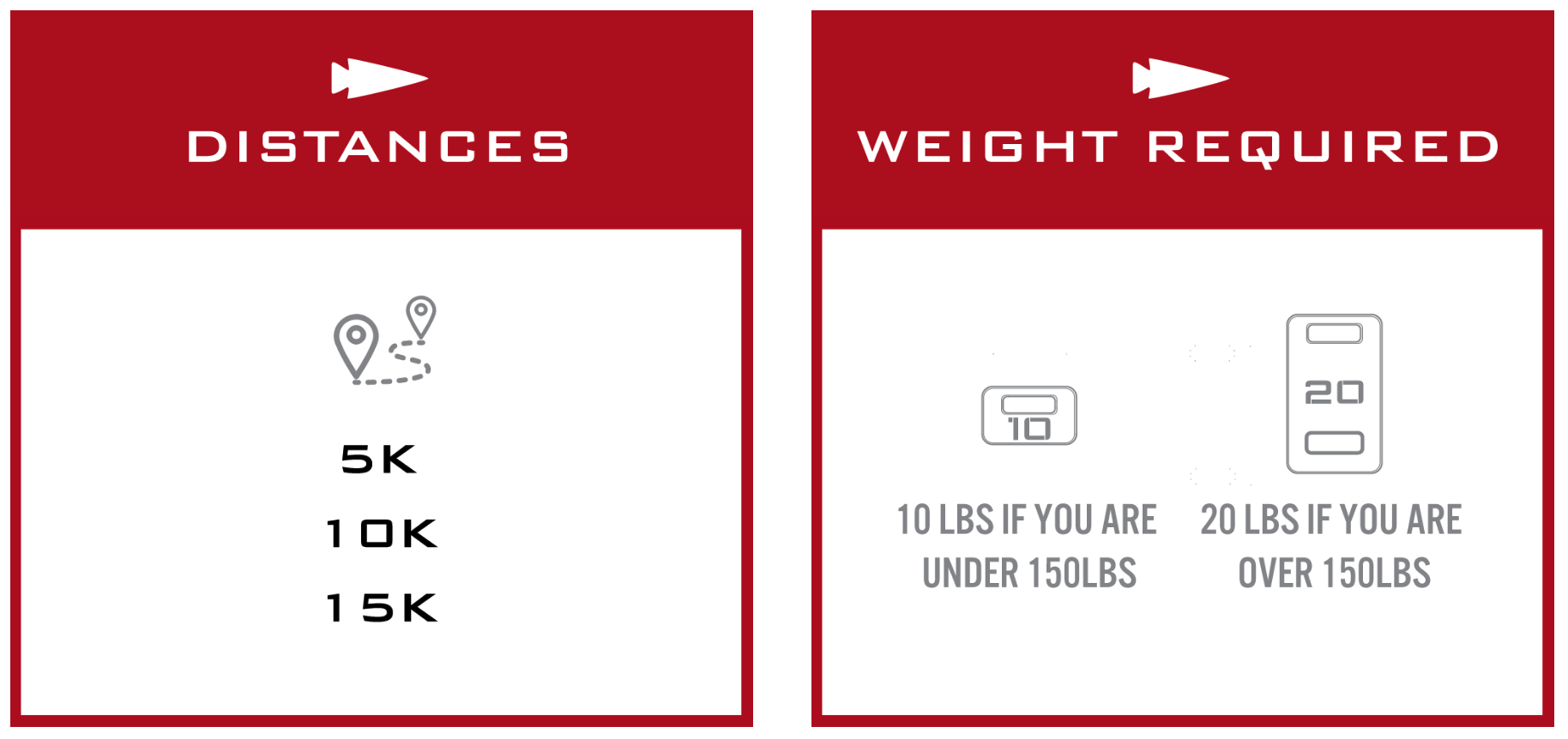 Rucking is a great way to build both strength and aerobic capacity. The best part is, everyone can do it!
Whether you're just looking for a way to start getting in shape or want to add something new to your training program, rucking is for you.
Check out everything you need to know about rucking here.
Check out the local Rucking Club in Regina - Conviction Fitness.
Virtual Event Details
How To Participate
You can run or walk to complete your First Responders and/or YQR VetRun event distance any time between June 1 - 30, 2021.
For the YQR VetRun Ruck you must complete your distance wearing a weighted rucksack (aka backpack). The weight you use is your choice.
Upload your time on the Race Roster Virtual Results Page. Instructions will be emailed prior to event to assist you in uploading your time. We encourage you to track your run using the RunKeeper app, where your results will automatically sync with your Race Roster account and upload right onto the Virtual Results Leaderboard.
Where To Run or Walk
Wherever you are! The simplicity of participating in a virtual event is you can start right outside your front door. Be sure to follow all guidelines outlined by your local government regarding physical distancing and activity to ensure you are keeping yourself and your community safe.  
Virtual Event Safety Tips
Respect all local government guidelines regarding Covid-19.

Complete event solo (or with members of your family or those in your "Covid bubble").

Respect other runners and walkers. Keep your space, maintain six feet of distance, pass with care.

Avoid high traffic pedestrian and vehicle areas. Run or walk close to home during a quieter time of day whenever possible.

Wear appropriate clothing. Be visible and dress for the weather.    

Bring water and/or nutrition if you are planning a longer route. There are no water stations in a virtual event.    

Carry a cell phone with you and tell someone the route you will follow in case of an emergency.    

You may complete your event using a treadmill if that is an option available to you and that you would prefer.    
Kids Race
An option for children 12 years of age and under is provided in the registration fee section below.
This option does not include a race shirt. They will receive a medal, race bib and Leaderboard to record their results.
If you wish to receive a shirt for children 12 years of age and under you may register them in the regular race category.
Event Withdrawal Policy
Entries may not be transferred, given or sold to a third party or deferred to a future date. All fees are non-refundable.
Contact information
Event contact

Shawn Weimer - Executive Director Run Regina

Email

Website