RIDE WEEKEND IS NEARING! Online registration will close at Midnight - Friday, May 28! SAVE $10
Weekend registration will be in-person only. Complete the waiver and registration form (left tab) and bring to registration. Cash and Credit Card ONLY!
In-Person Registration at Sunset Park, 9200 Haligus Road, Lake in the Hills, IL
Saturday - 10:00 a.m. - 2:00 p.m.
Sunday - 6:00 a.m. - 9:00 a.m.
The 2021 McHenry County Century Ride is excited to re-introduce a 26-100+ mile bike ride through scenic McHenry County! This inaugural event will showcase the scenic and mainly flat roads of McHenry County. The route has distances for every level of rider. Based on the cloverleaf design for routes, riders choose their distance, double up on one loop, tackle all four loops...You customize your route. Enjoy four loops connected through one rest stop for a fantastic day of riding! We ride rain or shine.
Staging for the start and end of the ride will take place in Sunset Park, 9200 Haligus Road, Lake in the Hills. The rest area, open from 6:30 a.m. - 3:00 p.m. is located in Union at Veteran's Park. We encourage you to join us for our post ride sandwiches, drinks, and dessert. Post event food will be served from 11 a.m. - 3:30 p.m. Bring your bag chair and enjoy the food, friends, and stories. Additionally there will be opportunities for photos and bragging rights of your bike stories.
Proceeds from this ride will benefit two local organizations with missions that benefit residents of McHenry County.
True Blue Dogs - A nonprofit dedicated to the development and training of qualified Service Dogs for public access to assist individuals with disabilities. Under the American's with Disabilities Act; a service dog is individually trained to do work or perform tasks for a person in need of assistance. True Blue Dogs service dogs are independently trained to perform tasks to assist those who live with physical and /or psychiatric disabilities: and are gifted to eligible applicants. TrueBlueDogs.org
People for Parks Foundation of Lake in the Hills - Established in 2008, the People for Parks Foundation of Lake in the Hills provides funds to off-set the cost of Parks and Recreation Department purchases for equipment and amenities. The organization also provides programming and preschool scholarships to residents needing assistance. LITHPeopleforParks.com
The 60+ volunteers support these two organizations and we appreciate their help with the ride. Sign up HERE to volunteer.
Registration fees
Bike Ride - Any Distance
Closed
Online registration closed
Online registration closed
---
The bike HUB/HQ is located 9200 Haligus Road, Sunset Park in Lake in the Hills, IL. Pick up your packet, fill up your bottles, meet your friends before the ride starts. We'll have ample parking, restrooms and cold water for all. Waiting for the last minute to register? Come on in and we'll accept registration event morning. Print off the registration form and waiver (see left tab) and bring your money or credit card to registration.
START - Riders can start anytime after 6:30 a.m. (When the course will be fully marked). Rest stop hours are 6:30 a.m. - 3:00 p.m. Post ride food - 11:00 a.m. - 3:30 p.m.
Each route is down loadable into your iPhone, Android, Garmin or other devices so you can follow along. We'll also have every route mapped out in paper format on line for you to print, as well as arrows and signs. No one will get lost on this ride! Bike links will be passed along once you've registered.
The initial route to the rest area is 13 miles. Once you get to the rest area you have a choice on 4 routes - with varying distances of 13-24 miles. Do all 4 routes and return to your car will be 104 miles. Do as little or as much as you'd like. Just note that the rest area will be open from 7 a.m. - 3 p.m.
DOWNLOADABLE ROUTES
Sunset Park to Union Rest Stop -
C Route - Southeast (New as of 5/26)
Union Rest Stop back to Sunset Park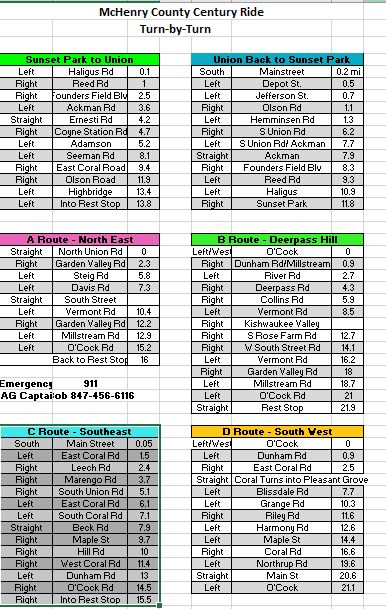 Partners
SUPPORTERS
Since this is a fund raiser for True Blue Dogs and People for Parks Foundation of Lake in the Hills, there are no refunds or transfers for this ride.
For the most enjoyment of this ride for yourself and others, it's highly recommended that you look over this check-list prior to riding with us.
1. Make sure your bike is in working order to include: tires pumped, brakes working, gears shifting, repair kit full, all bike parts secured.
2. Be self sufficient as possible. Carry at least 1 water bottle, bring a fully charged phone, add a light to the front and back of your bike, wear colorful clothing.
3. Helmets are required.
4. NO HEADPHONES are allowed on the ride. Volunteers will have the authority to request riders to take off headphones.
5. All 'Rules of the Road' are to be followed. i.e. cruising through a stop sign when a Police Officer is present MAY result in a citation.
There will be SAG vehicles circling every route during the hours of 7 a.m. - 3 p.m. Any rider with a broken down bike, rider having difficulties, or other issues can summon a SAG for pick up. Unless it is an emergency, the SAG may not return the rider back to the start or mechanical assistance immediately.
Routes will be color coded. Each route will have
1. Route Markers on the road
2. Arrows for every turn
3. Signs for any overlap routes
At the rest stop - Each route map will have a QR code to scan so you have the map on your phone.
Parking options
Parking options include:
Sunset Park - 9200 Haligus Road (Ride HDQ) - Sunset Park Skate Park (On map below)
Public Works 9010 Haligus Road
Sunset Park Splash Pad- 5200 Miller Road
Contact information
Event contact

Trudy Wakeman

Email

Phone

224-629-6197

Website