The Muskoka Marathon!
Set to the backdrop of beautiful Bracebridge Ontario
A sanctioned run with a 5km,10km, HALF and FULL Marathon race in the early fall season
We have a great days of racing planned for 2022. Join us OCT 1 for some beautiful fall racing. We are a Boston Qualifier!

SAT OCT 1
Marathon (7:30am)
Half Marathon (8:00am)
10k (2:00pm)
5k (3:30pm)
We have a FULL ROAD CLOSURE this year!
Water/Gatorade stations every 2.5k.
For group discounts, please reach out to us: muskokamarathon@gmail.com
In 2020 we launched our inaugural race; director Jed needed an outlet for his 40th year goal of running a marathon, and our events company had bandwidth given Covid19 had cancelled most of our annual events. With strong partnerships, and a small field, we dipped our toe into the race world, getting a grasp on logistics, key pieces, and the great energy of a race-day. In 2021 we grew our field to almost 400 racers per day. While we still were unable to host crowds, post-race celebrations or vendors, we still had a great race vibe. We look forward to growing the field in 2022, and being able to offer the pieces that we're experts in: pre & post party, events food, live music, and of course: BEER!
The course is paved, flat, and the colours along the Muskoka River in early October make for an ideal spot for a fun run or a personal best.
2021 Race Recap
Our 5k race saw Alex Campbell (16yo) win the women's division in 17:45, becoming our first runner to defend their title: She was the winner in 2020 as well! Mark Patton won in 15:00, just missing the course record from 2020 (Noah Booth 15:39). Liz Schad took 3rd place in the women's race, and broke the Ontario 5k record for the 65-69 in the process.
In the 10k race, 2020 silver medalist Rob Kanko became the 2021 champion, besting Physi_Kult teammate Matty Scace. Local Doctor Katherine Ahokas won the women's race.

Our HALF marathoners were the first race on course early Saturday morning, and winner Lee Wesselius smashed the course record (Branna MacDougall 1:11.42 in 2020) with a run of 1:06.35, topping the rest of the field by 8 minutes. Kassandra Gallo won the women's division.

In a testament to how fast our course is, we had 117 of 300 marathoners beat the Boston qualifying standard (after 34 of 75 in 2020). Branna MacDougall was at it again, this time in the FULL marathon. Her 2:33.40 not only had her win the race by a Muskoka Mile, but she also smashed the course record and put herself on the map with one of the best marathons by a Canadian in 2021. Clarence Hung won the men's division in 2:37.35, lowering the men's course record in the process.

Despite a fairly small field, we had a lot of amazing moments. PBs, firsts, National Records, Boston Qualifiers, and a whole lot of camaraderie.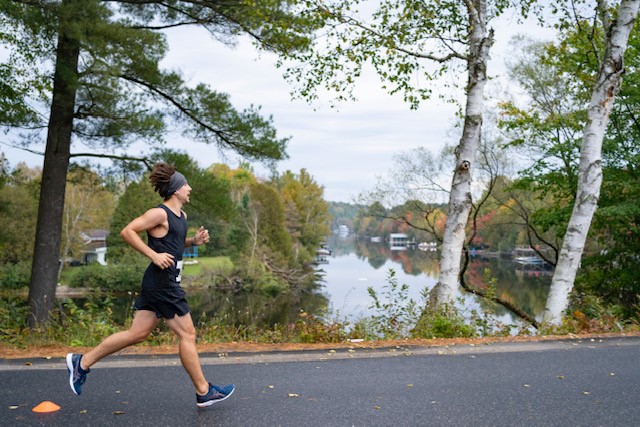 Contact information
Event contact

Race Director

Website