Rock the Ride Napa Valley, CA
Rock the Ride returns in-person on Saturday, June 25

ONLINE REGISTRATION CLOSES AT 3PM JUNE 24th.
DAY OF REGISTRATION AT THE COMMUNITY CENTER WILL BEGIN AT 7AM
Rock the Ride was created as a way for the community to get involved by using their voice (and feet) to raise funds for local and national nonprofit organizations addressing critical issues on gun violence. The power of our collective voice is what will make the difference to keep our nation a safer, more civil and kinder place to live, thrive and stay alive.
2022 marks four years since tragic events such at the Majorie Stoneman Douglas School shooting in Parkland, FL (February 14), The Pathway Home shooting (March 9) in Yountville, and the Borderline Bar & Grill shooting in Thousand Oaks,CA (November 7) occurred. Too many lives were cut short or marred by gun violence in that time.
We are grateful for the work of gun sense champions, including our own Rep. Mike Thompson (CA-05), but there is more work to do to close deadly loopholes in federal gun policy, increase awareness for the safe storage of firearms, increase funding for gun violence intervention and prevention, and funding of research to help us understand how to stop gun violence deaths of all forms. Together, we can make change.

WE WILL GATHER IN-PERSON AGAIN TO SAY WHAT WE'VE SAID BEFORE — AND WE'LL SAY IT UNTIL WE NO LONGER HAVE TO — ENOUGH.
***********

Join us on Saturday, June 25, 2022 for a walk, a ride,
and/or our burritos and bubbles brunch:
Start: Yountville Community Center
End: Yountville North Park
8:15am: 25-mile Ride
8:45am: 10-mile Ride
9:15am: 3-mile walk among the vineyards
10:00am-12pm: Burritos & Bubbles Brunch in the Park + Guest Speakers
10:45am - Formal Remarks Begin

Post a photo: share with us on Instagram. #RTR2022
#ENOUGH Let's #StandTogether to #EndGunViolence
***********
Registration fees
A beautiful walk through the quiet roads of the charming town of Yountville.
---
A beautiful 10-mile bike ride in Napa Valley
---
A comfortably-paced bike ride north of Yountville to Rutherford and back.
---
Just want to enjoy the burritos and bubbles brunch.
---
Orange Sock Champion
Closed
Join us virtually! Walk, Run or Ride & then receive your custom orange socks!
---
Contact information
Event contact

Team Rock the Ride

Email

Phone

7072788377

Website
Total raised
$47,868.36
Raised
Details of the Day!
WHEN: Saturday, June 25th
7:00am: Check-in begins
8:00am: 25mi Ride
8:30am: 10mi Ride
9:00am: 3mi Walk
10:30am - 12pm: Burritos & Bubbles Brunch in the Park + GVP Speakers
WHAT: PICK YOUR RIDE OR WALK. Show your support of gun violence prevention by sharing your participation on social media with the hashtag: #RTRforGVP2022
BONUS: We'll start the morning with a 15 minute warm-up.
FEE: $35 - $55 - Fee includes event participation and burritos & bubbles brunch in the park. Brunch-only & virtual option available.
ENOUGH CYCLING KIT
Our story behind the ENOUGH. cycling kit…
It starts with a men's soccer team, Napa Valley 1839 FC. Team co-owner, Arik Housley, lost his 18 year old daughter, Alaina Housley, in the mass shooting at the Borderline Bar in Thousand Oaks, California, November 7th, 2018. Since the club was first formed in 2017, the nation's gun violence epidemic continues to grow.
On October 19, 2019, the team walked out on the field to play the New York Cosmos with a singular and powerful message - ENOUGH. To honor the lives lost in just two years of mass shootings, the names and cities are inscribed in the jersey. The jerseys were also sold to fans near and far, and have raised more than $30,000 towards Alaina's Voice Foundation.
Alaina's Voice Foundation's mission is to inspire hope and kindness in our communities through education, music, and mental health initiatives.The foundation believes stopping one act of senseless violence in the future may not be measurable, but it is worth saving one more life and one more family the heartache.
Net proceeds of the sale of the jersey and bib short will be directed to the foundation.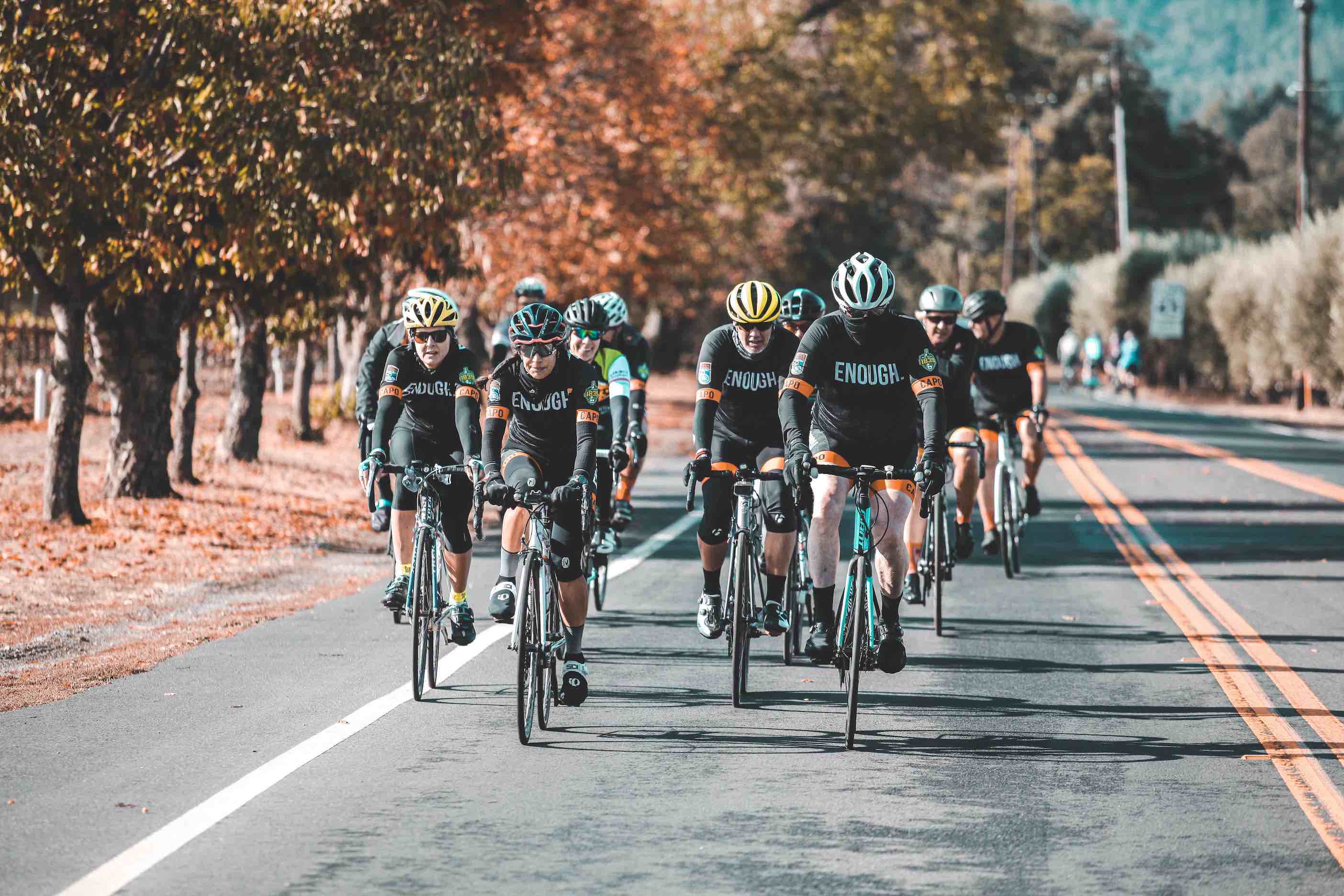 Become a Sponsor
Rock the Ride is not possible without the generous support of our sponsors. To learn about becoming a sponsor email info@ridenapavalley.com or call at 707.278.8377.