A MESSAGE FROM THE PRESIDENT...

Hello HBCU family and supporters,

We are excited to announce our 14th Annual Atlanta HBCU 5K Run/Walk!
Last year was a breakthrough year for our race as we raised more scholarship funds than any year during
the history of this Run/Walk. We could not have done this without your support! Thank you for showing up
and helping support our metro Atlanta students and HBCUs in the midst of all of the challenges we faced as
a nation in 2020. Without question our motto, "Together we win!" came alive as our Atlanta HBCU community
rallied and showed that resilience and giving back is what makes up our proud HBCU legacy. Because of
your support, we were able to provide $125,000 in scholarship funds to metro Atlanta students attending
This year we are taking our virtual experience to another level by expanding our love of competition and
fundraising and challenging our HBCU communities in Washington, D.C. and Philadelphia. We know how
our HBCU alumni and Greek families love good old fashion competition. Let's show 'em how fundraising is
done by holding down our city and supporting our students like we have never done before!
Please note, as we plan for our race, your safety remains our primary focus so we are planning to continue
to host this race as a virtual race this year and will have our week long race close out similar to last year.

As always, we thank you for your ongoing support and look forward in having you join us this year as we
continue our endeavor of giving back to our HBCU students because, "Together we win!".


Continue to stay safe and make plans to get your COVID vaccine shot as soon as you can.
With much HBCU Pride!

Dan Ford
President
We are still VIRTUAL!!!
Run or walk a 5k on the treadmill, around your neighborhood, your favorite walking trail or your own backyard anytime between Friday, June 25th and Friday, July 2nd. Registration will remain open during Race Week.
Once you have completed the race, you can upload your results using almost any tracking app(Strava, Runkeeper, iWatch, Treadmill or any tracking app you use). You can also just post your time.
We are excited the 14th Annual Atlanta HBCU Virtual 5K Run/Walk will continue the tradition of bringing all 63 member HBCU Alumni Chapters together to raise funds to support our students.
RACE DETAILS
***PLEASE READ BEFORE REGISTERING***
$25 "Early Bird" Registration ends March 31st

Registration is open until Friday, July 2, 2021
RACE WEEK KICK OFF - Friday, June 25, 2021
END OF RACE WEEK "COOL DOWN" - Friday, July 2, 2021
Join an existing team when you register or submit your team for approval HERE (not including GREEK CHALLENGE TEAMS) for approval.
GREEK "GIVEBACK" CHALLENGE team registration is from March 1 - 31, 2021. Click HERE for registration form.
Of course there's SWAG! Be on the look out for more information on RACE PACKET distribution. We are working on even more improvements.

Once you have registered, look for important information and updates via this site, email or our social media channels.

100% of the proceeds go towards Metro-Atlanta students attending or headed to an HBCU.

ALL REGISTRATIONS ARE FINAL!
We can't thank you enough for the support of our alumni, students and race participants, especially during this time. Let's continue to protect our community through social distancing and find creative ways to combat isolation by supporting each other.
Your safety and the safety of our community is our primary concern. We are closely monitoring all COVID-19 protocols daily to ensure we take the appropriate action that is in the best interest of everyone. Please do not hesitate to reach out if you have any questions or concerns.
For sponsorship or vendor opportunities, please contact danielwford@comcast.net.
Don't forget to like us on Facebook and follow us on Instagram!
Registration fees
5K Run/Walk- VIRTUAL
Price changes in 22 days 8 minutes
2021 Atlanta HBCU Alumni Alliance VIRTUAL 5K Run/Walk

$30.00

Discounted Admission

Now registering May 1 – May 31

Register

$40.00

Last Chance Online Registration!!!
---
Kids Run/Walk- VIRTUAL
Registration closes in 1 month 22 days
12 and under

Now registering Feb 14 – Jul 2

Register
---
Here's some help registering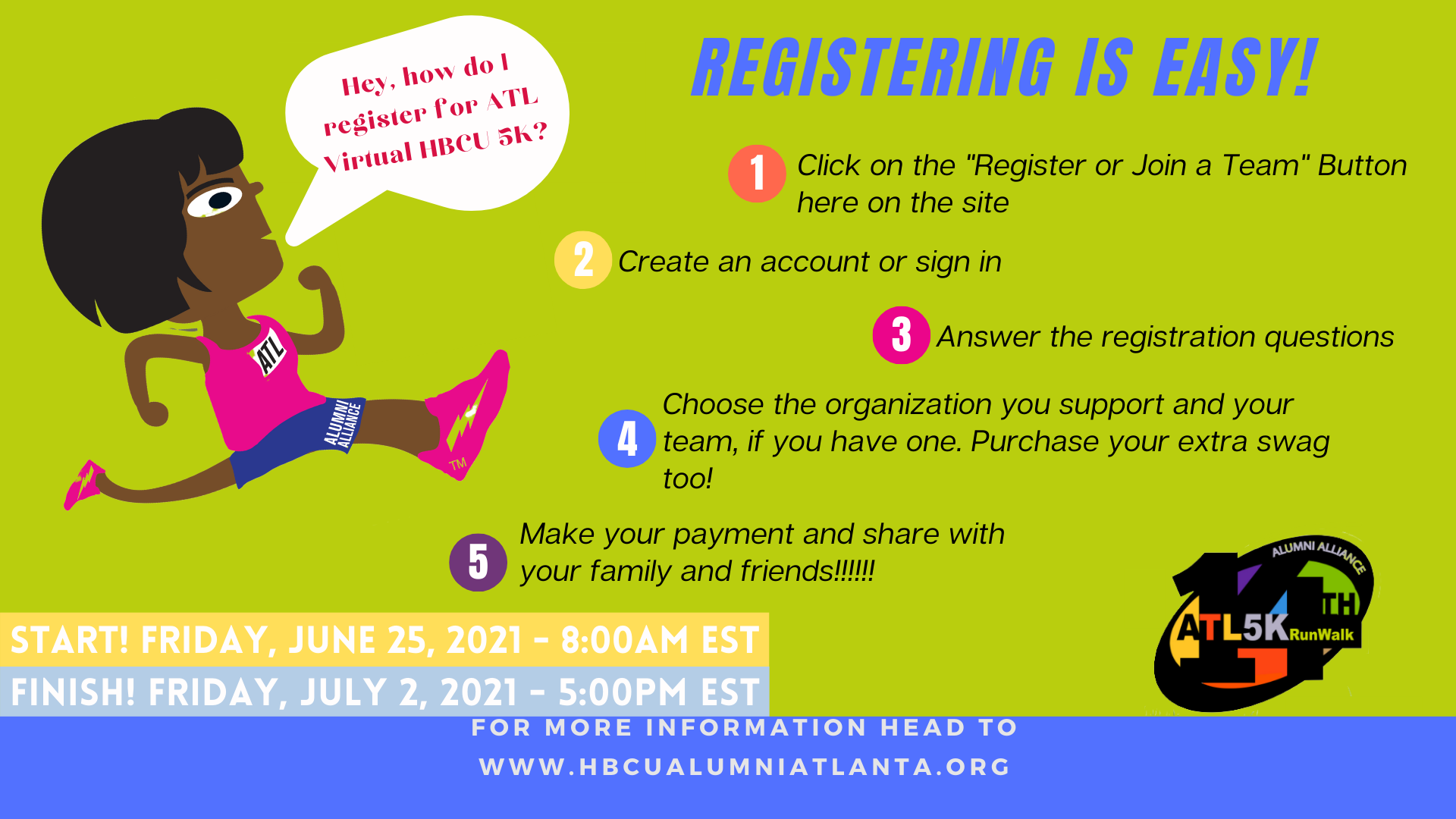 PLEDGING AND FUNDRAISING
LET'S DO IT AGAIN... WE MADE HISTORY
Anyone can DONATE OR PLEDGE to a runner, team or school.
There are so many ways to help out with this great cause. Pick what works best for you. But most importantly, get involved!
Contact your company or SEARCH HERE to see if your company has a matching gift program. For assistance in adding the Atlanta HBCU Alumni Alliance (AHBCUAA) Charity to your company's matching gift program, please contact our Customer Service HOTLINE or post your question on our Facebook Fan Page.
The Greek Giveback Challenge
THE GREEK GIVEBACK CHALLENGE
BACK BY POPULAR DEMAND!
If your GREEK ORGANIZATION is interested in participating in this year's race,
GREEK CHALLENGE TEAM REGISTRATION IS MARCH 1 - 31, 2021
CLICK HERE TO COMPLETE THE FORM
The Corporate Team Challenge
YOUR COMPANY CAN HELP US RAISE SCHOLARSHIPS
REWARDED TO METRO STUDENTS THROUGHOUT RACE WEEK!
MORE DETAILS TO COME.
HERE ARE THE STEPS FOR DONATING TO YOUR FAVORITE PARTICIPANT, TEAM OR ORGANIZATION.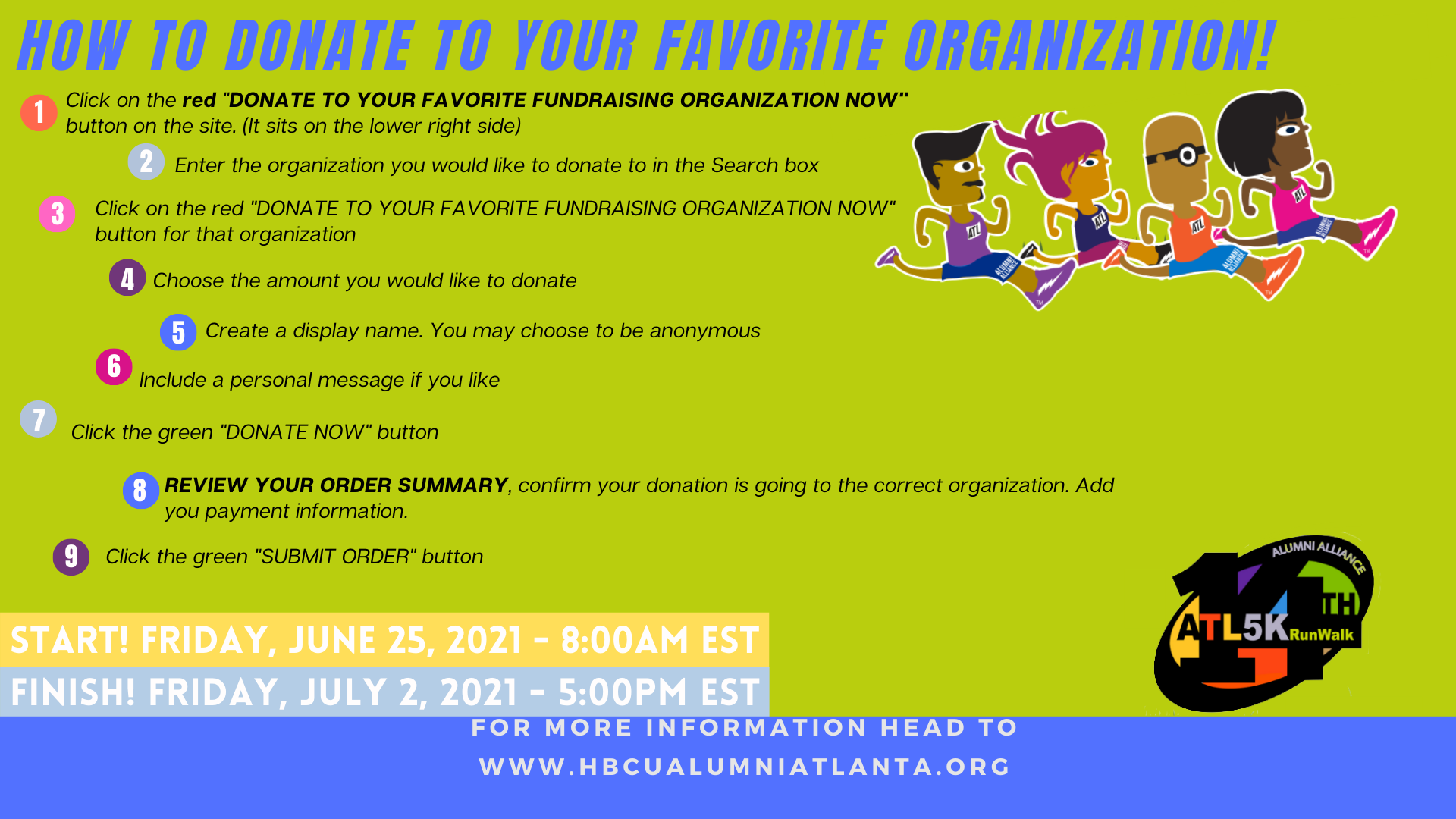 Sponsors
Contact information
Event contact

Joe & Erinn Rowell, Race Directors

Website
Top donors
| No. | Name | Amount |
| --- | --- | --- |
| 1 | Lenora A Cordell | $1,000.00 |
| 2 | Francis and Ethel Monroe | $1,000.00 |
| 3 | Emma Forte | $1,000.00 |
| 4 | Dennis Boyden | $1,000.00 |
| 5 | YLonne Swails | $1,000.00 |
| 6 | Sabrina and Michael Leath | $1,000.00 |
| 7 | Eric and Denise Billups | $1,000.00 |
| 8 | Michael | $1,000.00 |
| 9 | Anonymous | $525.43 |
| 10 | EMERSON CAREY, JR. ESQ. | $525.43 |
Top teams
1

WVSU Team Twin

View page
2

WVSU Billups Gang

View page
3

NPAAC All Stars!

Raised:

$6,261.79

View page
4

Alpha Alpha Pi Omega Chapter of Alpha Kappa Alpha Sorority, Inc.

Raised:

$3,034.22

View page
5

Lambda Epsilon Omega(AKA)

Raised:

$2,998.16

View page
6

Upsilon Alpha Omega Chapter of Alpha Kappa Alpha Sorority, Inc

Raised:

$1,871.24

View page
7

Psi Alpha Omega Chapter of Alpha Kappa Alpha Sorority, Inc.

View page
8

Albany State DeKalb Golden RAMblers

View page
9

LOAT

View page
10

Shaw University Bears

View page
Top fundraisers
| | | | |
| --- | --- | --- | --- |
| 1 | | Vonda Randall | View page |
| 2 | | Joyce Gilc... HBCU Schol... | View page |
| 3 | | Tara Hill | View page |
| 4 | | Jeannie Johnson | View page |
| 5 | | SHEREE WHITE | View page |
| 6 | | KIM GETER | View page |
| 7 | | Myrna Hunt-Young | View page |
| 8 | | Tamara Nelson | View page |
| 9 | | Felipe' Brown | View page |
| 10 | | Rodney Banks | View page |
Total raised
100 percent of the goal has been raised
Total raised
$62,117.04
Goal: $35,000.00