Help support the advancement of Sleep Medicine
and Research in Canada from October 24th till October 30th, 2021!
Donnez votre appui à l'avancement de la médecine du sommeil
et la recherche au Canada du 24 octobre au 30 octobre 2021!
Join a team of 'sleepwalkers' in a 5km walk or run to raise awareness
about healthy sleep and raise funds for the Canadian Sleep Society.
Joignez une équipe de marcheurs dormant debout pour une marche ou une course de 5 km
afin de promouvoir un sommeil sain et récolter des fonds pour la Société
canadienne du sommeil.
CSS mission: "Healthy sleep for healthy Canadians"
SCS mission: "Un sommeil sain pour des canadiens en santé"
CSS Vision: The Canadian Sleep Society is a national organization committed to improving sleep for all Canadians through: support for research, promotion of high quality clinical care, education of professionals and the public, and advocacy for sleep and sleep disorders medicine.
SCS Vision: La Société canadienne du sommeil est une organisation nationale vouée à l'amélioration du sommeil de tous les Canadiens par : l'appui à la recherche; la promotion de soins cliniques de grande qualité; l'éducation des professionnels et du public; et la sensibilisation au sommeil et à la médecine des troubles du sommeil.
Event sponsored by / Événement sponsorisé par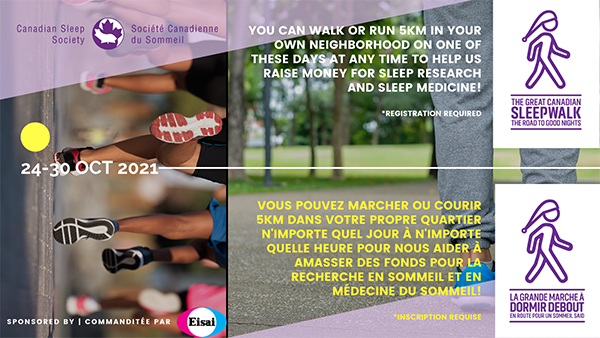 Registration fees
Virtual Sleepwalk October 2021
Closed
---
Gift certificate draw on October 30th 2021! Tirage de certificats cadeaux le 30 Octobre 2021
Those who will register will have the chance to win gifts-certificates, draw to be done on October 30th, 2021, at the end of the CSS congress. If you are not a member of the CSS and cannot become one (because you are not in sleep research or in sleep medicine) and still walk/run, your name will be in the ballot! Kids walk or run for free!
Ceux et celles qui s'inscriront auront la chance de gagner des certificats-cadeaux qui seront tirés le 30 Octobre 2021, à la fin du congrès de la SCS. Si vous n'êtes pas membres de la SCS et ne pouvez en devenir membre (vous n'êtes pas dans les domaines de la recherche en sommeil ou en médecine du sommeil), mais marchez ou courrez pour notre cause, n'ayez crainte, votre nom sera inclus pour le tirage! Les enfants marchent ou courrent gratuitement!
Details of the Virtual Sleepwalk/Détails de la Grande marche à dormir debout virtuelle
Register now for the Sleepwalk happening between October 24th and October 30th 2021!
Inscrivez-vous maintenant pour la Marche à dormir debout virtuelle qui se tient entre le 24 et le 30 Octobre 2021!

You can walk or run 5km in your own neighborhood on one of these days at any time to help us raise money for sleep research and sleep medicine!
Vous pouvez marcher ou courir 5km dans votre propre quartier n'importe quel jour à n'importe quelle heure pour nous aider à amasser des fonds pour la recherche en sommeil et en médecine du sommeil!
During that week, walk or run 5km in your neighborhood (invite family members, friends, colleagues, neighbors, etc). *A registration fee will need to be purchased to participate.

Pendant cette une semaine, marchez ou courrez 5km dans votre quartier (invitez des membres de votre famille, des amis, collègues, voisins, etc).
Why not put on your pajamas to walk or run? That could be fun!
Pourquoi ne pas porter votre pyjama pour marcher ou courir? Cela pourrait être comique!
Partners of this event / Partenaires de cet événement
Thank you to our Sponsor / Merci à notre commanditaire
The Canadian Sleep Society would like to thank our sponsor/La Société canadienne du sommeil remercie son commanditaire:
Did you know...?
Sleep is just as important as diet and exercise for a healthy lifestyle.

Le sommeil est tout aussi important qu'une saine alimentation, l'exercice et un style de vie adéquat.

Inadequate sleep leads to poor mood and impaired performance.

Un sommeil inadéquat (ou insuffisant) mène à une altération de l'humeur et une baisse de la performance.

Poor sleep leads to weight gain, obesity, and heart disease.

Un sommeil déficient mène au gain de poids, l'obésité et des complications cardiaques.
According to

ParticipACTION

, many kids are too tired to get enough physical activity during the day, and not active enough to be tired at night – it's a vicious cycle.

For optimal health, children and youth need to sweat, step, sleep and sit the right amounts.

Selon

ParticipACTION, plusieurs enfants sont trop fatigués pour faire suffisemment d'activité physique en journée mais pas assez pour être fatigués en soirée - c'est un cercle vicieux. Pour une santé optimale, les enfants et les jeunes ont besoin de suer, bouger, dormir et demeurer assis juste ce qu'il faut.
Top teams
Event schedule
October 1 5:00 p.m. EDT - Sign up for the SleepWalk in your community
October 3 5:00 p.m. EDT - Invite friends and family
October 9 12:00 a.m. EDT - Have you picked out your PJs or favourite dream costume to wear?
October 24 12:00 a.m. EDT - The SleepWalk starts!
October 30 5:00 p.m. EDT - The Sleepwalk ends!
Contact information
Event contact

Canadian Sleep Society

Email

Website