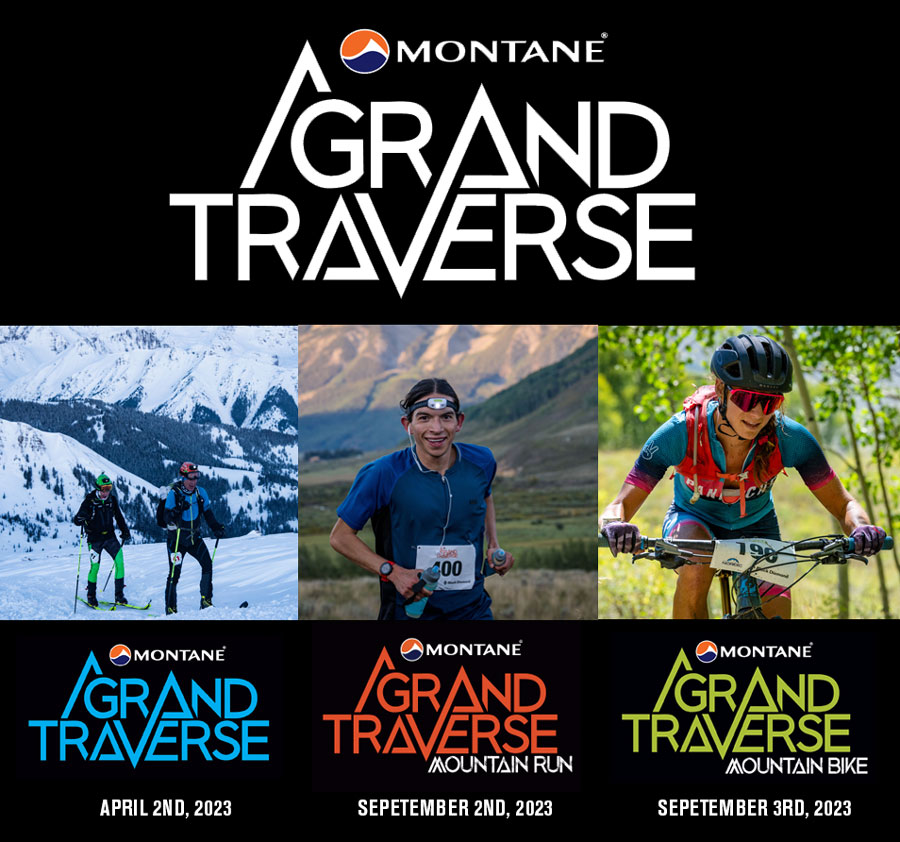 The Grand Traverse is the most time-honored point-to-point ski race in North America.
The 25th anniversary of this singular test of endurance across 40 miles of arduous alpine terrain has earned the race its status as a proving ground for endurance ski athletes.

With the inception of GT Mountain Run & Bike events in 2015, the Grand Traverse Triple Crown has rapidly matured into a preeminent multi-sport challenge, capturing the imaginations of mountain athletes across the nation.

General Registration Opens - 12/1/22 @ 12:01 A.M.
NOTICE:
Ski teammates will each register separately.
To secure a TEAM registration, only ONE teammate needs to register as Team Captain.
Once Ski registration is confirmed, your chosen teammate will have until December 11th to complete their portion of the registration. Instructions for enrolling your teammate will be sent in a confirmation email.


Fee Schedule:
SKI Team - $500 + GPS Tracking Fee
RUN Individual - $175
MTB Individual - $175
Dual Sport Individual - $315

Triple Crown Championship Registration:
Individuals wishing to enter into contention for the 2023 Triple Crown Championship should first secure a Ski Team registration. Once a Ski registration is secured, you'll need to then register as an individual in the Summer Dual Sport category.

Refund Policy:
Specific event refund policies with associated deadlines are outlined HERE.
Registration fees
Summer Dual Sport ( RUN & MTB - Individual )
---
SKI ( 1/2 Team Entry )
Access code only
Claim a 2023 SKI TEAM Registration. After event confirmation, you'll receive email instructions on how to enroll your required Ski Teammate.
---
Mountain RUN ( Individual )
---
Mountain BIKE ( Individual )
---
---
Charity-Mountain Run
Sold out
Chairty Slot for the Grand Traverse Mountain Run
---
Charity Ski (1/2 Team)
Sold out
Charity Slot for Ski Team. Only the Team Captain needs to register for the Chairty Slot. Team Captain will register then receive an email with a registration code for the teammate to register before December 11th.
---
---
Triple Crown Pre-Registration ( Individual )
Sold out
Pre-register into 2023 GT Triple Crown competition. Your fee pays - 1/2 the SKI TEAM entry, plus your Individual Mountain RUN and Individual Mountain BIKE entries. Once you receive confirmation, you'll receive instructions in the confirmation email on how to enroll your required Ski Teammate.
---
Contact information
Event contact

Race Director

Email

Phone

970-349-1707 x 4

Website