Registration closes at midnight, June 27th!
Canada Day Weekend 2023:



Sole Sisters Race (All Genders!)
EPIC Canadian - Run for Canada
Steele Subaru KIDS RUN DARTMOUTH
We are excited to present an exciting new combination celebrating Canada Day Weekend 2023: Sole Sisters and the EPIC Canadian together on the same weekend for the first time!
Join us here, or from anywhere across the country and beyond using our 'Virtual' event options. Once again, you can celebrate the most Canadian holiday of the year, and the joy of Active Living, with running friends from far and near - including some you may not have met yet! The 2023 Canada Day Weekend kicks off with Sole Sisters 5K at 6PM on Canada Day Eve, June 30th. The next morning, Canada Day July 1st, brings the Maple Leaf 10K at 8AM, followed by The Canadian 5K at 9:30AM. Then our youngest competitors race 1 or 3K with the Steele Subaru KIDS RUN DARTMOUTH at 10:45AM.

Complete all three distances over two days to be a finisher of the Mini-Moose Challenge! And of course we continue the same race format EPIC pioneered within Canada in 2014, the EPIC Double-In-A-Day: two distances, back-to-back, and the additional challenge of posting your best total time for the 15K distance as well.
For those collecting the C.A.N.A.D.A. medals, 2023 will offer to opportunity to earn the final two medals in the series completing the set. Any participant completing any two (or all three) distances can opt in to receive our 2023 "It's Not Easy" challenge medals, the 5th and 6th letters in our C.A.N.A.D.A. medals series, the final letters, 'D' and 'A'.

All courses are accurately measured, well marked & signed, with both police and volunteer traffic control, and fully supported for both Runners and Walkers at all levels. There are portable toilets and multiple water stops en route, and refreshments at the finish line.



Note: If you would like to pay by a method other than credit card, please send an email to: info@epiccanadian.ca
TUTU is unisex sizing that fits most as it expands from 30 to 46 inches. Colors will be chosen randomly from the eight colors we have.
This year, we finish our C.A.N.A.D.A. medals, with both the 'D' and the final 'A'. Every participant that completes two or more distances in this year's event can opt in to receive this year's double "It's Not EASY" bonus medals on Canada Day Weekend.

Earning each CANADA medal is a special achievement, and we want to provide every participant a chance to partake, even if they are new to running, or need to spread their two events out over more than a single day.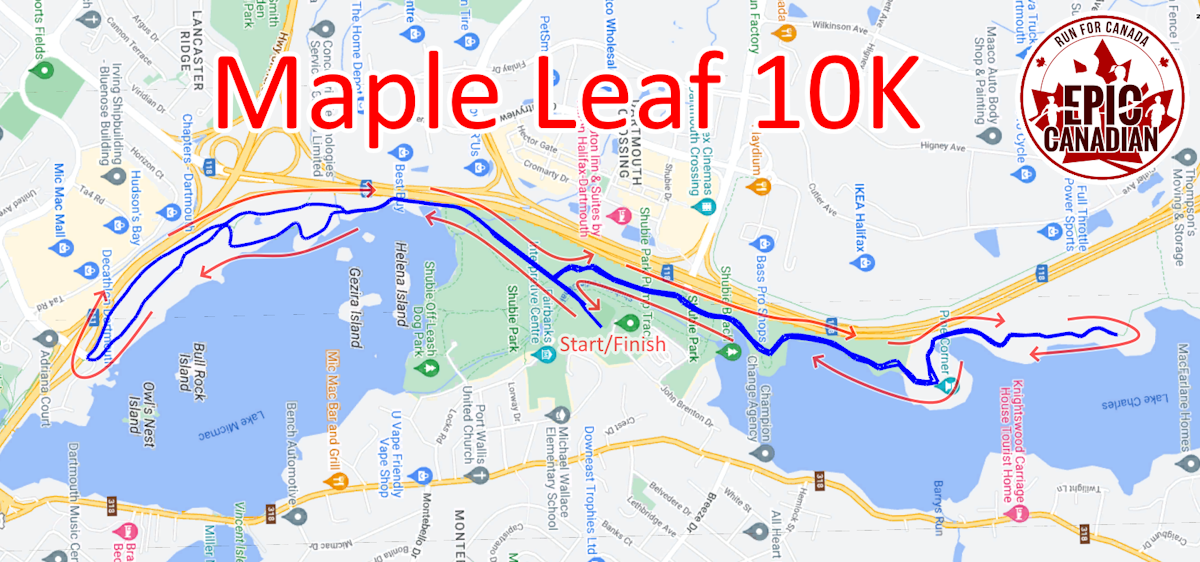 If you can't join us in person this summer, we'd love to have you join us 'virtually', from anywhere across Canada, or beyond (a question in the registration process asks for your shipping address). We pack and ship the same race kit you would receive on location: shirts, swag, medals, custom bib - all of it. So join us from literally anywhere!

We *attempt* to ship all Virtual race kits prior to the event date, but realistically, with delays in receiving race materials and also with shipping, these kits may not be physically in your hands by the first - but they will get to you just as soon as we can make it happen!
So, yes, please join us, and register early to give us the best chance of getting your race kit to you early as well.
Wednesday, June 28th from 4:00PM - 7:30PM at Decathlon Sports, Mic Mac Mall in Dartmouth (outside if weather allows).

For those coming from out of town, and that don't have someone to pick up their kit in advance, there will be a limited pre-race kit pick up available on site - from 5:00-5:30 PM on Friday evening, June 30th (before the Sole Sisters race), and then 7:00-7:30 AM on Saturday morning, July 1st (before the Maple Leaf 10K).
Event schedule
June 30 6:00 p.m. ADT - Sole Sisters 5K
July 1 8:00 a.m. ADT - Maple Leaf 10K
July 1 9:30 a.m. ADT - The Canadian 5K
July 1 11:00 a.m. ADT - Steele Subaru KIDS RUN DARTMOUTH
Contact information
Event contact

Race Director