We cant' wait to see you this weekend!
If you registered and did not get a confirmation e-mail on Tues/Wed with the links you need to participate,
check your Spam folder.
Email 5k@scadresearch.org if you did not find the email.
NEW FOR 2020!!
Virtual SCADaddle & Mayo SCAD@Home
OCTOBER 16 & 17
Social events, SCADaddle & Mayo Clinic SCAD Research team presenting their latest findings
Please email 5k@scadresearch.org if you have already paid for a registration fee in 2020 before you register here
Our Cause
Spontaneous Coronary Artery Dissection (SCAD) is a little known and poorly understood type of heart attack. Most patients are younger healthy women who do not have the typical risk factors of heart disease. Although less common, it can affect men too. SCAD can recur and can be fatal. Research is needed to identify the cause(s) and the best treatment options.
SCAD is the #1 cause of heart attacks in women under age 50, pregnant women & new moms.
Join us!!
Friday, October 16 7pm CST Zoom Evening SCAD Reunions by region
Saturday, October 17 8am - 11am CST Live Virtual SCADaddle - music & inspiration included😊
Saturday, October 17 1:30pm CST Facebook Live SCAD Research Inc Presentation, Mayo Clinic Research Presentation/Q & A, SCAD Board wrap up
Saturday, October 17 7pm CST Zoom SCAD Social - Saturday Nightcap
If you are unable to participate on 10/17, walk/run/bike at your own location, distance and date/time during the month of October and help us fundraise for Research.
Registration Details
If you are attending any portion of the agenda, please register for one of the 2 options:
$15 to attend the social events, SCADaddle and/or SRI/Mayo presentations
Complimentary to attend the SCADaddle and/or SRI/Mayo presentations only
Please consider creating a personal fundraising page during registration to help continue much needed Research. To date we have donated close to $1,000,000! With your help, we will exceed that before year's end!
For updated information about the 5K, please follow us at https://www.facebook.com/events/834050260461450 or for survivors at https://www.facebook.com/events/767444704025400
Email us at 5k@scadresearch.org with any questions.
Thank you!
Registration fees
Virtual SCADaddle, Social Events & Presentations
Closed
---
Virtual SCADaddle & Presentations only
Closed
---
Mayo Clinic SCAD Research Program Presentation
Mayo Clinic SCAD Research Program Presentation
October 17 @ 1:30 CST
Facebook Live

Don't miss this wonderful opportunity to hear Mayo Clinic's latest SCAD research findings from leading SCAD research experts! We are honored to have internationally recognized researchers Dr. Sharonne Hayes, Dr. Marysia Tweet, Dr. Rajiv Gulati, Dr. Patricia Best and Dr. Timothy Olson (genetics) join us. At the end of their presentation, as time permits, they will answer questions posted on Facebook by the audience. We will send the Facebook Live event link to everyone who registers.
The program will begin with a welcome from SCAD Research, Inc., an all-volunteer organization. Thanks to the hard work and generosity of many, we have raised and donated a total of $965,000 to research since we started in 2011. We look forward to exceeding $1 million before year's end. The vast majority of our funds have gone to support Mayo Clinic's groundbreaking research.
SCAD Social Events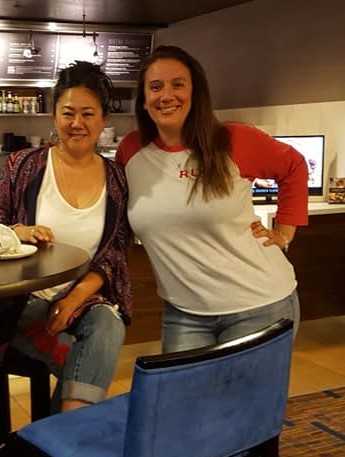 SCAD Social Tradition
- Virtual Style -
An important part of a SCADaddle weekend is meeting other survivors, their supporters and families of SCAD Angels.
Social Events
Friday, October 16 7:00pm CST
Zoom SCAD Reunions hosted by SCADaddle 5K chairs - participants will gather by region initially & then have the ability to visit other geographic "locations" via Zoom rooms. Plenty of opportunity to meet new survivors, SCAD Angel families, catch up with old friends & have fun!
Saturday, October 17 7:00pm CST
Zoom Saturday Nightcap will include a how to session on making our Signature SCAD Cocktail. Following the fun filled demonstration, participants will break into smaller groups and move randomly via Zoom rooms.
Additional details will be provided after registration.
We can't wait to see you❤️
Sponsorship
Sponsors play a key role in helping to raise money for research to uncover the causes and best treatment options for SCAD. We offer a number of sponsorship opportunities with a variety of benefits.
If you are interested in sponsorship or know a corporation/organization that might be interested, please email 5k@scadresearch.org.
Money raised through sponsorship will help to fund needed research. Thank you!
Thank you to the following sponsors:


$10,000 Plus
Nationwide Sponsors

---
$5,000 Plus
Presenting Sponsor
---
$2500 Plus
Supporting Sponsor
---
$1000 Plus
Patron Sponsor
Harrison Township, Michigan


Allentown, PA


---
$500 Plus
Partner Sponsor
---
Virtual SCADaddle Made Possible by...
| | |
| --- | --- |
| Grand Rapids, MI | |
Top donors
| No. | Name | Amount |
| --- | --- | --- |
| 1 | Anonymous | $533.35 |
| 2 | The Walker Family | $533.35 |
| 3 | Rohini Chandrashekar | $533.35 |
| 4 | Lehigh Valley Women Lawyers | $533.35 |
| 5 | Johnson & Johnson Matching gift from Joseph Daknis donation | $500.00 |
Top teams
1

Team Fear Less

View page
2

Team Trulley

Raised:

$3,377.85

View page
3

Thul Family

View page
4

Remembering Ranjani

View page
5

Nicole's SCADiators

View page
6

Sarasmiles

View page
7

The Silver LInings

View page
8

Team Kelley

Raised:

$1,181.72

View page
9

Karen's Crusaders

View page
10

Bolek

View page
11

Cheers to 5 Years

Raised:

$1,020.68

View page
12

SCADalicious

View page
13

Heart Beats Quilt

Raised:

$796.38

View page
14

SURVIVOR QUILT

Raised:

$743.98

View page
15

Pink & Red Hearts Quilt

Raised:

$653.77

View page
Top fundraisers
1

Jill McComsey

View page
2

Sarah Trulley

View page
3

Denise Thul

View page
4

Deborah McGarry

View page
5

Meghan Scheiber

View page
6

Karen Ehrisman

View page
7

Erin Gray

View page
8

Rohini Chandrashe...

View page
9

Michelle MacDonald

Raised: $994.93

View page
10

Karen Glugla

View page
Contact information
Event contact

Carol Zich & Jan Saillard

Email