Event week is such an exciting time – set-up is complete, volunteers are hustling, and your participants can't wait to get started. With the new ability to customize your onsite check-in fields, you can ensure only relevant information is shown, allowing you to provide a speedy and flawless check-in process for your participants.
What is a check-in modal?
Volunteers can use the Onsite App to see an organized list of the participant's information via the check-in modal. This information includes determining factors such as gender or what sub-event they are registered for. It ensures that each participant receives the right bib number and other event items such as swag bags.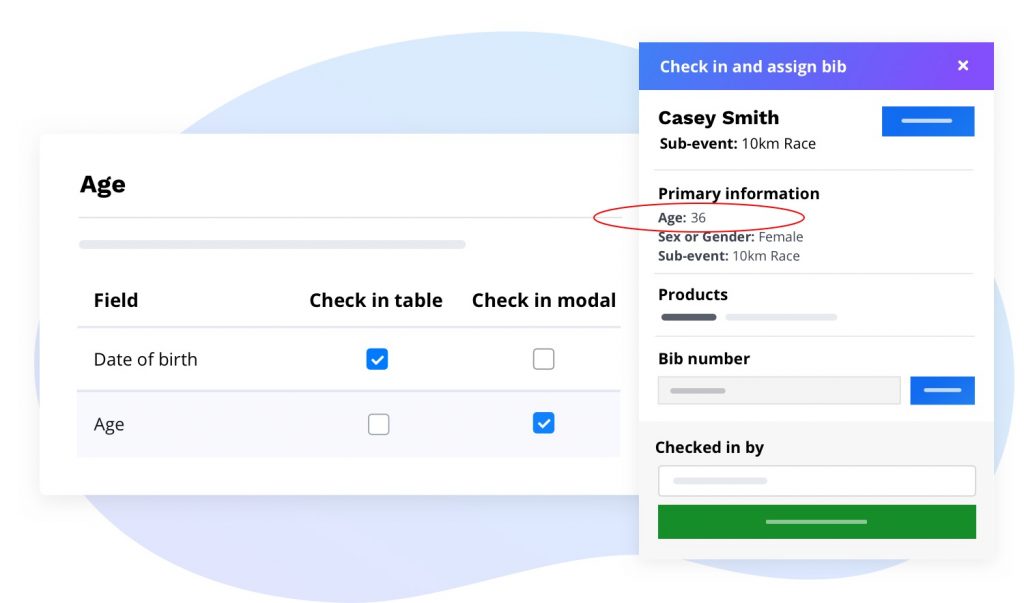 Simplify product distribution
Offering products is a great way to get your participants excited about your event. Participants look forward to getting these items and the check-in customization helps you facilitate the exchange with ease.
For example, while customizing your check-in display settings, you can select which products will be included in the check-in modal. This will help simplify the list of information and ensure participants receive all the correct products at the right station.
Award returning participants
A great way to leverage these new customization capabilities is to ask if each individual is a returning participant on your registration form. You can include the answer to this question on your check-in modal and have volunteers award participants for their loyalty by doing something special. For example, volunteers could put a fun sticker on the participant's bib or give them a complimentary item. Feel free to get creative! This is a great way to go the extra mile to enhance the check-in experience and make your returning participants feel good!
Streamline check-in
In some instances, the default information that is displayed on your check-in modal may not be enough, or might not be what the volunteer needs to know. By customizing this information to meet your needs, you can ensure only relevant data is shown. Hand-picking the information you deem essential will make check-in quicker for everyone involved!
The Onsite check-in modal customization feature is powerful and can be used in a number of ways. Ready to decide which items will be shown to your volunteers when checking in participants? Check our knowledge base article on how to customize the check-in modal.