Five things we loved about Running USA 2015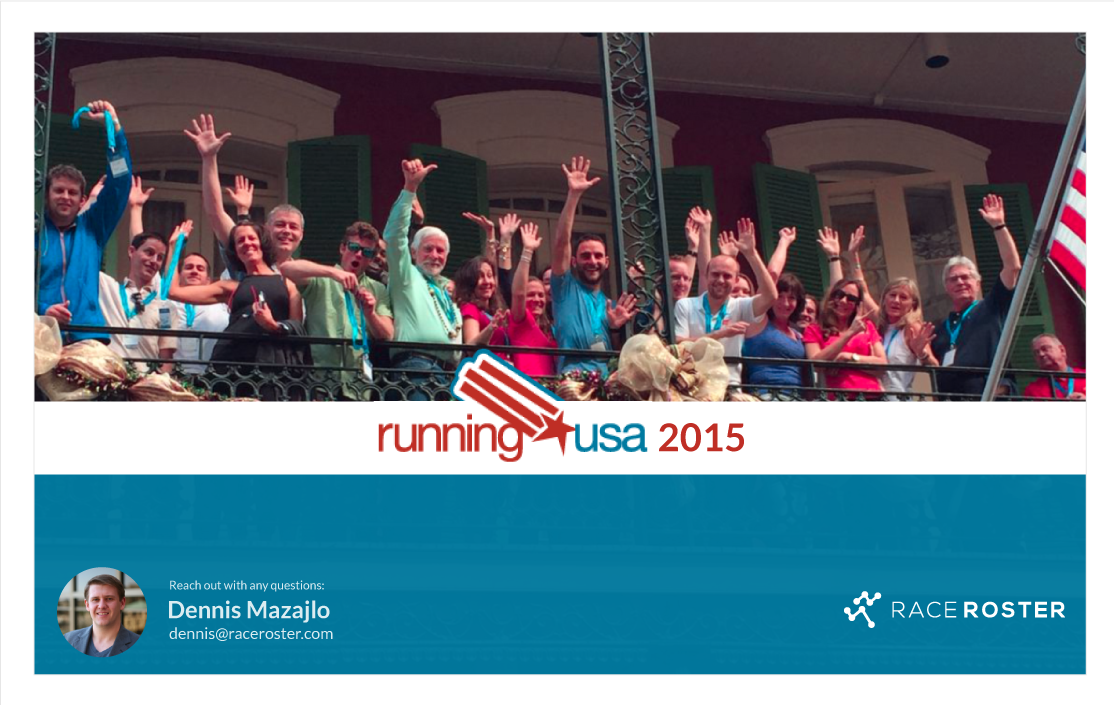 The Running USA conference in New Orleans was an incredible event that brought together event organizers, vendors, and experts all hoping to shape the future of events across the continent. Here are 5 things we learned – and loved – about Running USA 2015.
1. Pat Williams – Keynote Speaker
Pat Williams' keynote presentation was a highlight for our team. Pat is an old-school relationship builder and lead by example kind of guy. Pat's speech zeroed in on the power of teams and working together. Pat's knack for explaining the importance of teamwork was reinforced by an anecdote about Clydesdale horses. Pat explained, "Alone 1 Clydesdale can pull 5,000 lbs., 2 Clydesdales can pull 15 – 20,000 lbs., and 4 can pull 50,000lbs. When we link up and really start pulling together, we can do amazing things as a team."
2. Vino Jeyapalan – Leveraging Facebook to grow your event
Our team was fortunate to share the expertise of Vino Jeyapalan, a Client Solutions manager at Facebook, with the Running USA attendees. Vino talked about best practices with photos and copy that are driving success for endurance events. He also gave an explanation of conversion tracking, the lifetime value of an athlete, and creating custom and lookalike audiences along with interest and location layering in order to improve your success.
If you would like the slides from his presentation, please email dennis@raceroster.com and he would be happy to discuss all the things we learned.
3. J.T. Service – The Business of Running
J.T., founder of Soul Focus Sports, was part of a session that focused on the maturation of the running industry as a business. He discussed the importance of collaborating with partners that tell the truth. His legal name is actually SERVICE, and he lives up to it. He does things differently and is all about honesty, transparency and fun. When he is working on a new project he has a simple, yet powerful mantra that goes like this:
Charities: tell the truth (in shaping your commitment to the event).
Marketing: tell the truth (of what your event is and what it is not).
Mistakes: tell the truth (when you screw up, own up to it).
At the end of his talk J.T. said it best, "This industry was founded on collaboration".
4. The People – Our vendor partners and friends
We are all lucky to work in an industry with so many great people. From legends like Jon Hughes, the organizer of the runDisney events, to vendors and newcomers alike, we consistently find that good people want to work in the endurance space. It was fun to see the diversity of people on the dance floors in New Orleans. There were a couple of standouts, you know who you are!
5. The City
Whoever decided to make this year's Running USA in New Orleans deserves a promotion (or a high-five at the very least). Being in the city during Mardi Gras was an experience like no other, and we all truly enjoyed the hospitality and energy of this great city. The parades, the food, and the people reminded our team to take it easy and maintain a positive attitude in everything we do. Thank you to The Big Easy for making us all feel so welcome – we'll be back soon.