Great partnerships can help improve and personalize the participant experience. Race Roster is excited to share some of the key partnerships we've been working on for a number of years. Easily activate these partnerships within your dashboard or by contacting our Customer Success team.
We believe the following partners represent best-in-class offerings and we encourage you to learn more about them below:
RegShield by Protecht
Offer your participants peace of mind with Protecht
Protecht has created a custom protection product that enables your participants to opt-in for registration protection. Protecht handles any claims, so you can focus on organizing a spectacular event.
How do I activate this?
Independently activate RegShield coverage at any time before or part-way through the event. Visit our knowledge base for step-by-step activation instructions. Alternatively, you can work with our Customer Success team to activate RegShield for you.
What's in it for me?
Fully compliant registration protection policy at an affordable price for your participants.
Participants who are 'on-the-fence' are 4% to 7% more likely to register when provided with a registration protection policy.
Protect your business by partnering with an expert to arbitrate refund disputes.
Stand out in your market by being an early adopter.
How do I get started?
More information
Download this white-paper to learn more about registration protection policies. If you still have questions, we're here to help.
---
Adventure Advocates Event Cancellation Program
Protect your event business by enabling Event Cancellation Coverage by Adventure Advocates. This coverage provides full refunds to would-be participants for events that are cancelled due to a covered peril*, such as:
Terrorism
Adverse Weather – any adverse weather that posed a serious threat to individuals involved in the event or made it physically impossible to use the venue due to physical damage or complete inaccessibility to the venue.
Natural Catastrophe
How do I activate this?
Every event organizer is given an opportunity to enable Adventure Advocates Event Cancellation when they are taking an event live. Several reminders and opportunities to add the protection are also shown during the go-live process.
OR
If your event has already accepted registrations, work with our Customer Success team to discuss your options.
What's in it for me?
Protect your business revenues from unforeseen circumstances.
Peace of mind for your event team
How do I get started?
Contact director@raceroster.com using the subject line "Adventure Advocates Inquiry".
---
iTab
Give participants the opportunity to personalize their medals
An iTAB allows your participants to personalize their medal with their name and finish time. After the race, participants are provided with a personalized plate showing their finish time which can be placed on the back of the medal. It looks great, compliments the medal, and helps participants remember their race experience for years to come.
How do I activate this?
Work with our Customer Success team to add the standard iTAB offering to the products sections of your event organizer dashboard. Once activated, it will be offered to participants during their registration.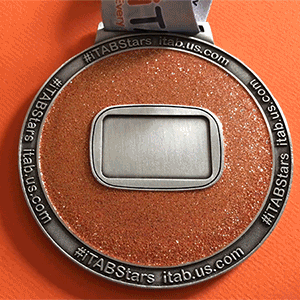 What's in it for me?
Enhance the participant experience by offering the ability for them to personalize their medal.
A generous rev-share program and an opportunity to mark up the sale price.
An opportunity to partner with a recognized endurance event brand!
Hands-off fulfilment by the iTAB team, including mailing the iTABs directly to your participants.
How do I get started?
Contact director@raceroster.com using the subject line "iTAB Inquiry"
Make sure you let your medal provider know you'll be using iTAB inserts on the back of the medal. We can share the specifications they'll need!
To learn more, please email director@raceroster.com, or call and speak with a member of our partnerships department.