Our virtual event toolkit is on its way! Race Roster is developing an end-to-end experience for your participants to complete their event journey. We expect to launch this toolkit within the coming week.
The toolkit includes:
Seamless transition of your participants into a virtual race on Race Roster
The option for runners to track their run via virtual race on Runkeeper, or on other tracking apps
Virtual race results uploaded to a results page branded to your event
All of the services above are available at no additional cost to you or the participant
Our team will invest time to help you deploy a virtual program
We are also working on providing additional perks for your participants – stay tuned for more info!
Race Roster is committed to supporting you and your participants during this unprecedented time. In our recent article "Managing the effects that COVID-19 may have on your event" we discuss the importance of maintaining a positive brand connection and encourage event organizers to consider a virtual race category.
As more of our upcoming races transition to a virtual race, we have been pleasantly surprised by the positive reactions of participants. We have been working around the clock to enhance our virtual race experience to allow runners to complete the journey they started with your event.
Below, you will find a preview of the added virtual race features for you and your participants. Follow these steps and please resource us to activate a virtual running experience. Once the new tools are available we will follow up with a more detailed activation guide.
The Participant Experience – Three steps…
Runner or walker learns about virtual race option via email from Event Organizer
Participant runs or walks the required distance to complete the virtual run – this can be tracked via a tracking app, or however a runner typically tracks their time and distance (or you can go honor system)
Participant uploads their result to a custom event-branded results page provided by Race Roster
Here is an example of the result upload process:
1. Direct participants to custom branded results page
From the results page, participants will be prompted to submit their virtual results and will be provided with clear instructions on how to accomplish this.
2. Confirm registration
Participants will be required to confirm their registration by entering in their last name and confirmation number, or by simply signing into their Race Roster account.
3. Submit results
Once their registration is confirmed, they will be prompted to enter in their results and the results of anyone else that was included in their initial registration. Participants are able to come back at a later time to post additional results.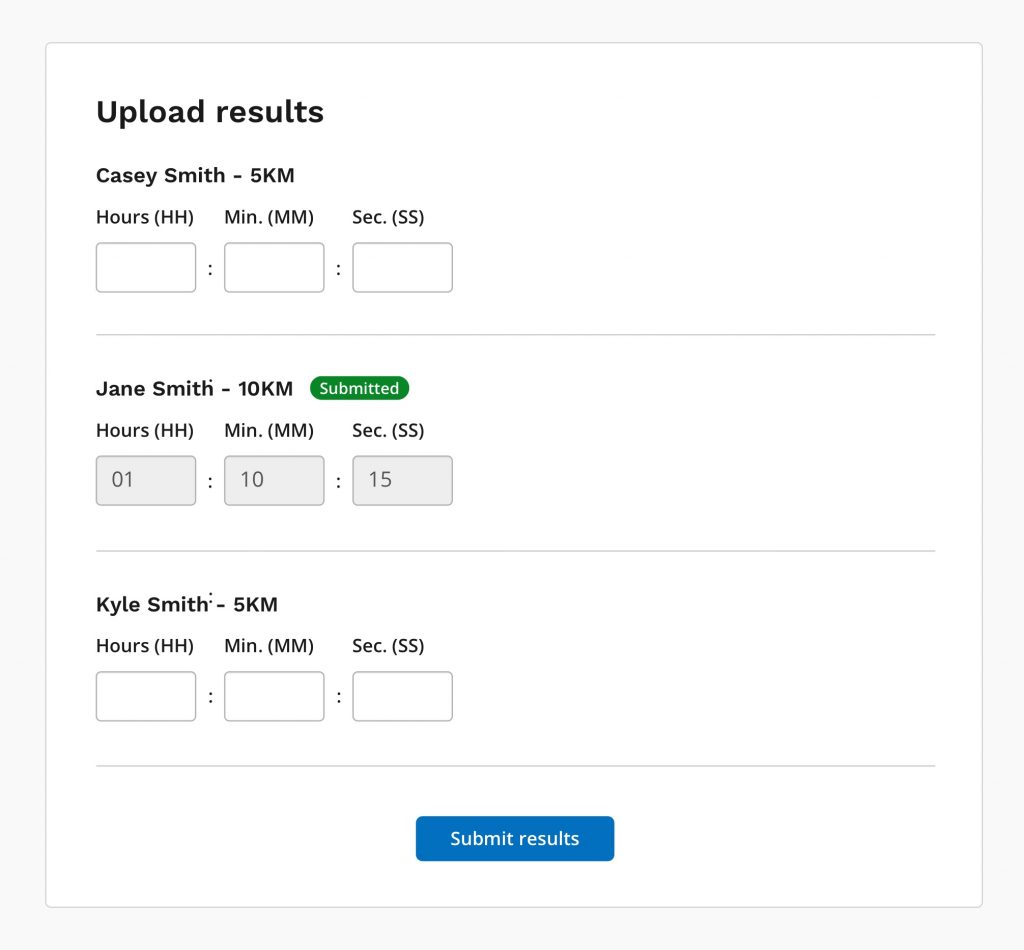 4. View and share finisher certificates
After their results are submitted, participants will be able to view their custom branded finisher certificate and share their accomplishments with their friends and family.
How do I activate the virtual race experience? Follow these three steps…
Let Race Roster know you want to activate a virtual race option by emailing your Customer Success Manager, or our general support inbox; director@raceroster.com. We will also be sending specific instructions this week if you want to set it up yourself.

Race Roster will help you set up an email campaign to encourage your participants to complete their race virtually. In the email, they will also receive instructions on the following:

How to utilize Runkeeper virtual runs (or an app of their choice) to track their run
How to upload results
We will provide suggested email copy in our activation guide, which will be sent within the coming week!
We hope this technology proves useful in allowing your runners to complete the journey they've started! Runners love to showcase their accomplishments. More importantly, they love to showcase their resilience. Let's give them that opportunity!
We will reach out this week with updates. In the meantime, please let us know if you are interested in offering your runners a chance to complete your race virtually. Again, there's no cost for activating these features.