Tips & Tricks | Estimated Read time – 6:32
Event organizers are always looking for better ways to connect and engage with their participants. Our Digital Engagement Kit is the perfect solution.
As an event organizer, you have a captive audience that is ready and willing to engage with you: your registrants.
Digital Engagement Kits (or DEKs) give you the opportunity to connect with that audience in a way that's more meaningful than standard virtual goodie bags.
What are Digital Engagement Kits?
Available for free when you're registered with Race Roster, DEKs are custom event pages that are made up of a collection of "cards." These cards are entirely customizable so you can deliver a wide variety of content to your participants, including important event information, sponsorship and charity partner details, as well as special offers or discounts. Learn how you can create a Digital Engagement Kit here.
With Digital Engagement Kits, your participants can access all this great information well in advance of event day through your event details page or a shareable URL.
When used to its full capabilities, a DEK can not only improve your participants' all-around event experience but create valuable sponsorship opportunities, bolster community partnerships, and help you run even better events.
Below we've highlighted nine fun and interesting ways that you can use Race Roster's Digital Engagement Kit feature to connect with your registrants from the moment they sign up for your event to the moment they cross the finish line and beyond.
1. Supply Virtual Event Packets
Digital Engagement Kits are an easy and environmentally friendly way for you to get your participants all the information they need to be race-day ready.
With Digital Engagement Kits, you can prepare a sustainable event packet your participants can access at any time that includes promotional materials, event FAQs, information about sponsors and charitable partners, and much more.
2) Share Coupons and Discount Codes
Too often, coupons are handed out at events only to end up in the backseat of a car well past their expiry date. With a Digital Engagement Kit, your participants can access coupons and discount codes digitally, meaning you're creating less waste and there's a much better chance those coupons and codes will be used (to the delight of your partners).
A fun way to take advantage of this feature in your Digital Engagement Kit could be to run a virtual coupon giveaway. Create a card that includes a coupon or discount code and add it to your Digital Engagement Kit on random days in the leadup to your race. Encourage your participants to check in with your DEK regularly for their chance to access the prize!
3) Offer Valuable Sponsorship Opportunities
Digital Engagement Kits allow your sponsors to reach your participants in more meaningful ways, more often, with promotions, discounts, or membership offers. Plus, the customizability of the page means you can give your sponsors top billing on your page, so their card is the first thing participants see when they visit your DEK.
As a bonus, your sponsors can fill out their own cards for your DEK so they can communicate with your participants in the most impactful way. And it saves you time—a win-win!
Did You Know?
As the event organizer, you can make it mandatory for Digital Engagement Kit card submissions, and any card content edits, to require your approval before publishing. Learn more in our article about how to allow participants and sponsors to submit cards to your digital engagement kits.
4) Provide Participant Training Resources
Help your participants get in peak shape for your endurance event by building a card in your Digital Engagement Kit that includes a training plan or training resource. You can include training plans for various distances, links to helpful training apps, discounts for training gear, nutritional recipes, or even your favorite training playlists.
This is also an opportunity to run a challenge for your registrants to complete in the weeks leading up to event day. Challenges are a great way to keep registrants engaged ahead of your event and create friendly competition.
5) Promote Upcoming Events
If you organize multiple events throughout the year, you can use the Digital Engagement Kit as a marketing tool to promote upcoming events to your current participants. For example, if you've set up a Digital Engagement Kit for a spring-time endurance event, you can create a card that promotes early registration for the next event in the fall.
Pro Tip:
Use a promo code within the early registration card that offers an early-bird discount and track how many users showed interest for your upcoming event from the Digital Engagement Kit.
6) Recognize Fundraising Organizations
The Digital Engagement Kit is an excellent way to highlight causes supported by your event and streamline fundraising efforts in a way that's easy and engaging for your participants.
What's more, you can tell the story behind who the fundraising organization is and the people they support. Using multiple cards, you can meaningfully explain to your participants what the fundraising organization does, where contributions go and how they're used, how donations can be made, and much more.
7) Create a Traveler's Kit
If your endurance event is a common destination for participants from out of town, you can create separate Digital Engagement Kits for locals and visitors, with the latter doubling as the ultimate event guidebook.
On top of important information about your event, you can include hotel and restaurant recommendations, suggestions for places to visit and sights to see, exclusive deals and discounts, plus any helpful tips and tricks that only locals would know.
Did You Know?
You can use Race Roster's Locals vs. Tourists tool (found on your Demographics dashboard) to identify the percentage of your participants who are traveling to your event. Additionally, you can view other demographic metrics on this dashboard for deeper insight into your participants!
8) Share Participant Stories
Event organizers, sponsors, or charity partners aren't the only ones who can contribute to a Digital Engagement Kit—your participants can also contribute. You can create a DEK that's open to participant contributions, allowing your event registrants to create cards of their own that tell the story of why they run or who they're raising funds for.
9) Share Results & Gather Feedback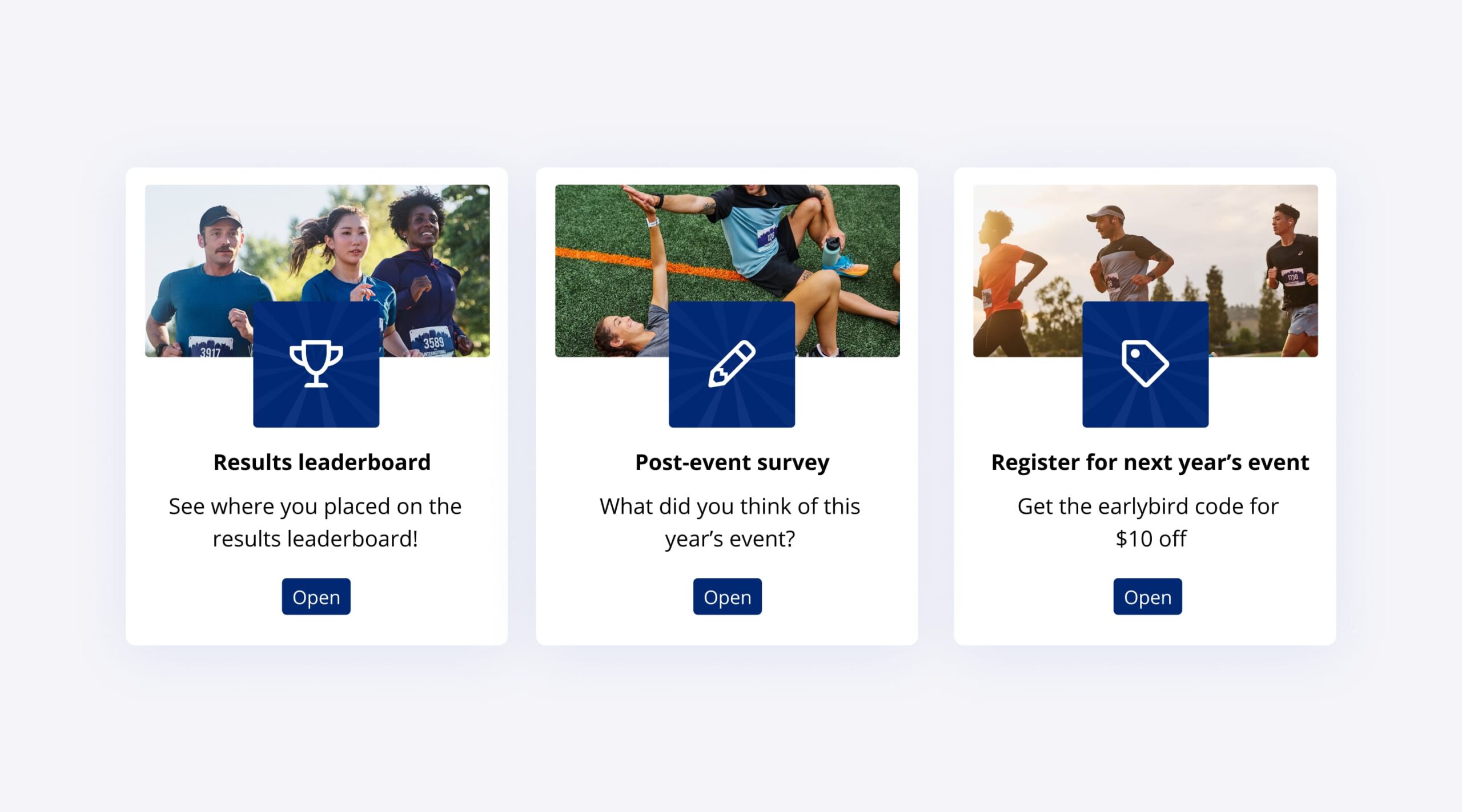 The participant journey doesn't end when they cross the finish line, and neither do the ways you can build Digital Engagement Kits to continue engaging with your participants.
Here are a handful of ideas for your post-event DEK:
Create a leaderboard card that shares all event results.

Add a post-event survey to get useful feedback from your participants.

Give discounts for registering early to next year's event.

Include updated offers from sponsors and partners.

Provide post-event recovery and nutrition plans.
See DEKs in action
Featuring the Cincinnati Aruna Run
The 2023 Cincinnati Aruna Run created 8 incredibly inspiring and creative Digital Engagement Kits!

Runner testimonials, shareable assets for social media, special discounts, and a variety of other valuable information were included in these kits, making their content engaging for participants and anyone interested in learning about the event or supporting the cause.
Get inspired by the Cincinnati Aruna Run's DEKs
No matter how you use the Digital Engagement Kit, always keep your participants' experience top of mind. No one knows your audience better than you, so use that to your advantage and create a DEK full of cards that will elevate your participants' experience and take your event to the next level.