While this year has certainly presented various challenges to the endurance event industry, 2020 has generated some positive outcomes as well. For instance, we've seen an increase of approximately 27% in total donations towards fundraising organizations across the Race Roster platform. With the rise in generosity, this year's GivingTuesday is likely to inspire another increase in donations and generate positive results for fundraising events.
What is GivingTuesday?
GivingTuesday, as referenced by givingtuesday.org, is a "global generosity movement unleashing the power of people and organizations to transform their communities and the world. GivingTuesday was created in 2012 as a simple idea: a day that encourages people to do good. Over the past seven years, it has grown into a global movement that inspires hundreds of millions of people to give, collaborate, and celebrate generosity."
We've put together a list of great ways you can leverage fundraising tools on Race Roster to prepare your event for this upcoming global movement on December 1st, 2020.
1. Customize fundraising pages
Our easy-to-use fundraising page settings make setting up beautiful fundraising pages a breeze. You can upload a logo and custom banner for each fundraising page, making each page look unique and branded accordingly. The text displayed on fundraising pages are fully customizable, giving you the autonomy you need to tailor fundraising content to your audience.
Our tools allow you to customize the full fundraising experience from beginning to end, covering every way to give. The following fundraising pages can be customized to your preference:
Fundraising organization page
This is the place for donors to learn more about your cause and make a general donation directly to the organization. If your event has a goal for this specific organization, you have the power to decide whether or not this goal is visible to the public. Your organization description and logo will also be displayed when a user is making a donation during event registration.
Individual participant page
After a participant has signed up for your event, a personal fundraising page is automatically created for them. By default, your registration confirmation page will drive participants to their personal pages to upload a photo of themselves, share their story, and spread the word about the cause. This call-to-action can be adjusted on your fundraising page settings and can be turned off with thank you settings.
Team fundraising page
All participants will have their own personal fundraising page, however, if they join or create a team, they will also be able to receive donations through their team's fundraising page. The team captain can include their own custom copy to provide donors with information about their team and inspire donations.
Fundraising thank you page
Once a donation has been made, the donor will be directed to your "fundraising thank-you page". This is a great place to express your gratitude and encourage donors to spread the word about the cause with friends and family.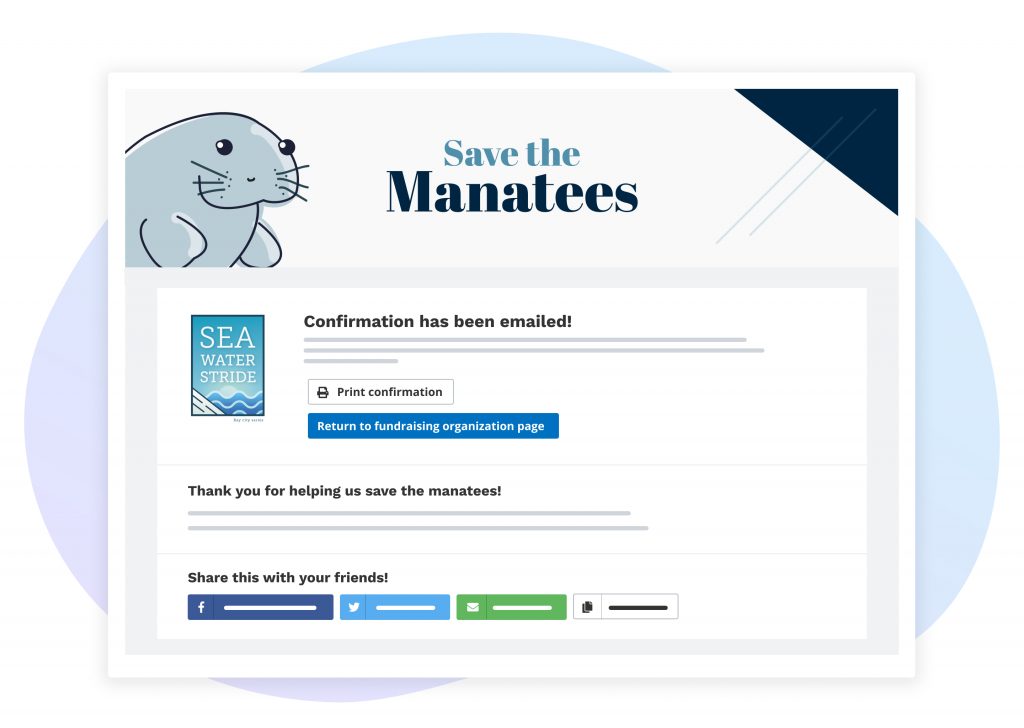 2. Drive peer-to-peer engagement
One of the most effective ways to spread the word about your cause is through peer-to-peer engagement. Participants decided to take part in your event for a reason and typically feel passionate about the cause. You can provide fundraisers with opportunities to share their stories and encourage them to spread the word in various ways.
Fundraising leaderboards – Encourage social sharing and friendly competition by enabling our top fundraiser, top donor, and top team fundraising leaderboards on your event details page.
Fundraising focused email campaigns – Leverage the Race Roster email campaign tool to prepare fundraising focused campaigns. You could put together a heartfelt campaign reminding participants why their contributions make a difference, highlighting how much is needed in order to reach your fundraising goals, and encouraging participants to help promote the cause within their communities.
Thank you for donating email campaign – While participants are great advocates for the cause, many donors are also passionate about your cause and willing to help. You can set up a 'thank you for donating' campaign to automatically send an email to your donors, thanking them for their contribution and encouraging them to spread the word!
3. Provide additional incentive with digital fundraising badges
Many people will contribute to a good cause for the sake of contributing to a good cause, but a little extra incentive can make donating to your particular organization slightly more enticing. Offer participants a reward for every milestone hit by creating unique digital badges. For example, participants could receive a badge after raising $100, $250, $500, etc. The criteria for achieving each badge is up to you.
4. Enable automated donation receipts
Your donors have grown to expect their receipts at the time of donation. Enabling automated donation receipts is quick and easy, allowing you to save administrative work and offer exceptional customer service to your donors.
Visit our knowledge base to learn how to enable automated tax receipts
5. Make donations during registration mandatory
If you'd like to drop your registration fee and instead collect a mandatory donation from each registrant, you may find use in our mandatory donation feature. This feature allows you to set a minimum dollar amount of your choosing to be donated. Registrants must donate the allotted amount before being able to complete registration. This can be a great way to ensure that all funds go directly to the cause! Alternatively, you can also ensure that participants pay a registration fee to cover event costs, as well as set a minimum donation amount.
If you have any questions, don't hesitate to reach out to us at director@raceroster.com.
Race Roster fundraising tools in action
Check out the following success stories
"2020 has been a challenging year for most non-profits, especially those that serve vulnerable populations. Run to Feed the Hungry, typically the largest Thanksgiving Day run in the country, is a major source of funding for Sacramento Food Bank & Family Services. When this year's event was forced to go virtual due to COVID-19, we worked with the team at Race Roster to leverage their fundraising features to tap into the generosity of our community. Not only did we exceed our fundraising goals, we more than doubled last year's fundraising total! Having access to a robust set of fundraising tools that works seamlessly with race registration has been integral to our event's success."

Chris Mason, Capital Road Race Management
---
Not currently using Race Roster?
We'd love to give you a quick demo and answer any questions you may have.