Making Strides: December Updates to the Onsite App & More
December is over, here's what we were up to!
We hope you enjoyed your holiday parties, family time and used your down time to plan your 2017 events. Here is a summary of what we were up to last month:
---
New "Customer-Centric" Onsite Kiosk
The kiosk mode of the Onsite App allows several self-serve kiosks to be set up for participants as they come to either sign up or check in near event day. This mode does not require volunteers to observe each station. Further, the kiosk comes with Mobile Friendly registration settings that understand speed is a top priority. These settings allow you to further shorten the required fields, limit cash payments or disable a waiver.
---
New onsite registration settings released
In October, we gave you notice that a new onsite app was in the works…now it's here and available for use. Our intuitive design paid particular attention to the packet pickup and event day experience. Its flexibility also makes it great for expo sales or one-day promotions in your community. Large or small events will find their team of volunteers can quickly learn the functionality and let you oversee or verify what's happening. If you want to dig in on the features and updates, schedule a call with our Client Success team by emailing director@raceroster.com or calling 1-855-969-5515.
---
New pledge page design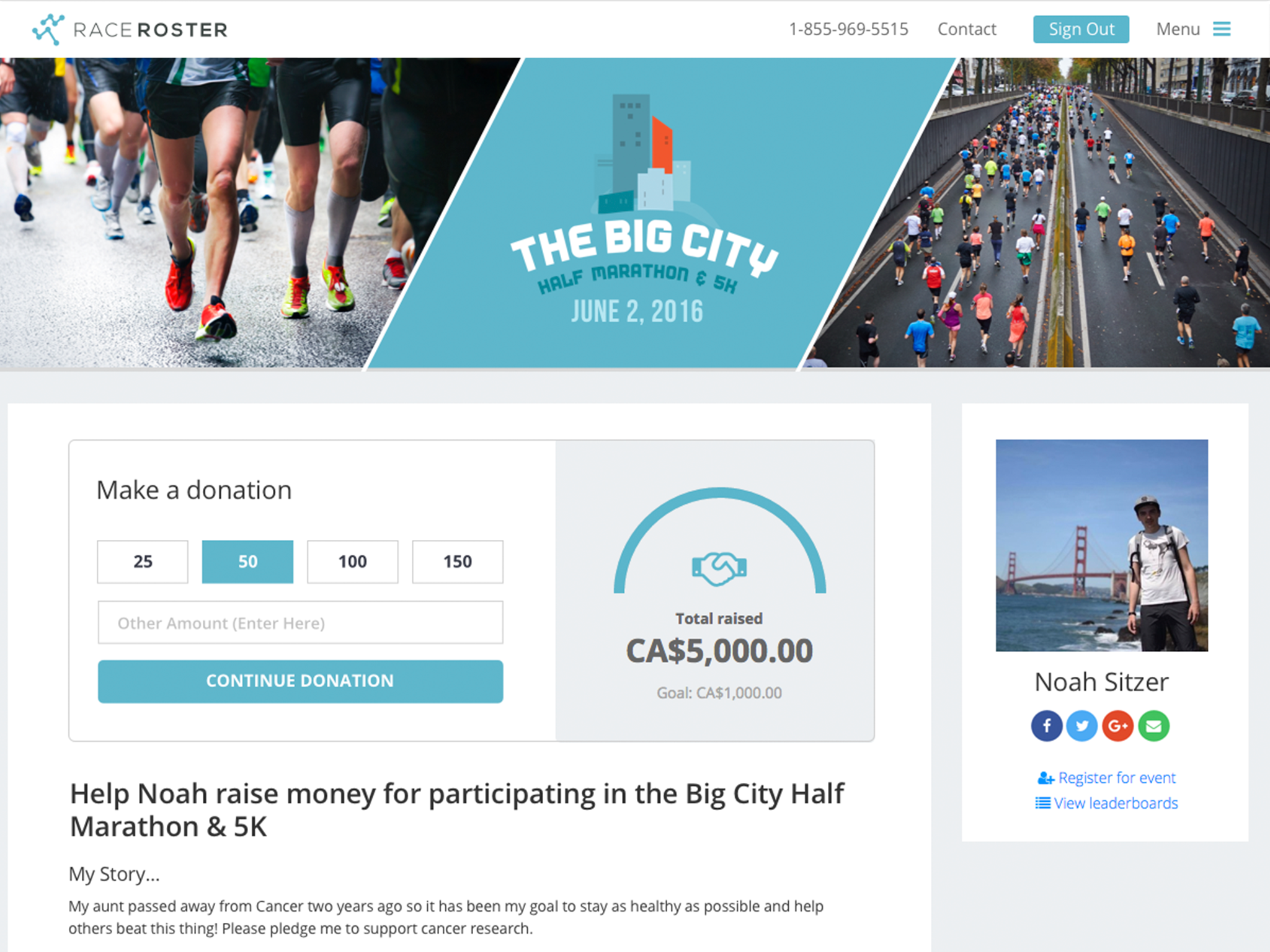 Race Roster designed and released a new pledge page design that will roll out as an optional feature over the next few months. These pages allow for a custom banner displayed only on fundraising pages, new display areas for achievements and recent donors, and a new design highlighting monies raised.
---
Ability to pledge directly to a team
We released a new pledging option allowing pledges directly to a team. If someone is donating to a family or corporate team and prefers not to play favorites, they now have the option of making general team donations. In the past these donations had to be attached to a person.
---
Team category fundraising leaderboards
Team Category Fundraising Leaderboards allow for further fundraising competition. Teams can be compared within their team category (think Corporate team competition) and across categories for the whole event (think rankings compiled from both a Corporate and School team category).
---
Three custom buttons under the event logo
Our system continues to give unmatched options to customize your event experience. You now have the ability to add three buttons that can link to any specific page on Race Roster (like a Participant Dashboard) or an external site to a link of your choosing (like a Frequently Asked Questions tab on your domain).
---
Miscellaneous
Below are a few more updates, with a short description, that you may find interesting:
Condensed Thank You Page released – this design has no banner and a reduced confirmation number on the page.
New donation/pledge confirmation email released with attached PDF like registration.
A title was added to Fundraising Leaderboards pages. An example would be labels to distinguish Overall Leaderboards and Team Category Leaderboards.